PFA backs Plymouth Argyle plan to repay players
Last updated on .From the section Football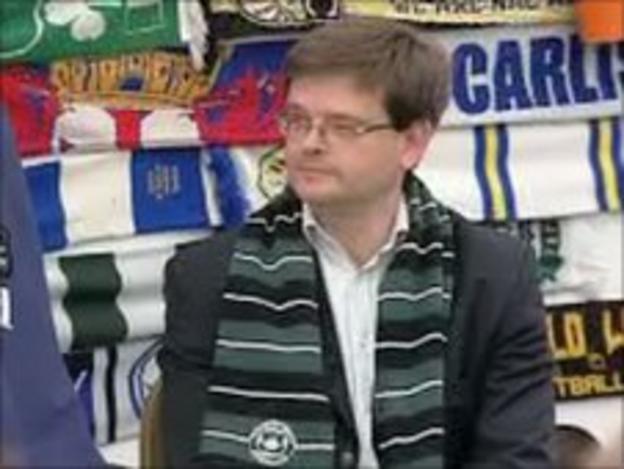 Plymouth Argyle bidder James Brent has reached agreement with the Professional Footballers' Association about paying back players wages.
Players and staff have not been paid fully since November 2010 due to the League Two club's financial problems.
Under the deal those owed money will get an upfront sum, monthly payments and the rest of the balance after an agreed period of time.
Half of any extra profit made by the club will also be put into the scheme.
Staff have yet to agree to the scheme which was put to them on Tuesday.
The PFA will manage the agreement for past and present players while the club will run the scheme for staff.
Argyle went into administration in March after suffering financial difficulties from the end of 2010.
Brent's deal was approved by the club's administrators last month, but has been delayed as Plymouth City Council decide whether or not to spend nearly £2 million to buy back Home Park.
"The selfless approach of staff and players is what has kept this football club alive on life support," Brent said in a statement.
"While we would clearly have liked to offer faster payment of PAFC's debts to employees, the proposal is the best the company can safely offer."
And he hopes that extra profit, such as any transfer fees the club may receive, will speed up the repayment.
"I hope that the payments can be accelerated through the receipt of unbudgeted income," he added.
Acting chairman Peter Ridsdale believes the move is a positive one for the future of the club.
"We are pleased that today's announcement brings us one step closer to exiting administration, thus enabling us to start paying our players and staff properly and rebuilding the club," he said.
"I would ask all those affected to support the proposals as quickly as possible so that we can move forward.
"The proposal in my view is materially better for everyone involved than the alternative of liquidation."