Uganda struggles to find scapegoat for Nations Cup blow
By Nick Cavell
BBC Sport, Kampala
Last updated on .From the section Football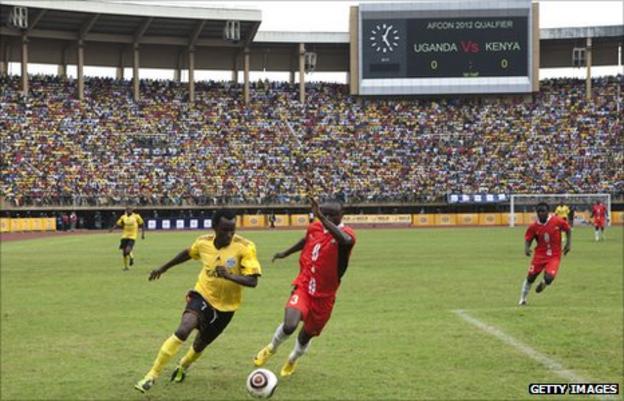 Ugandan fans and media are all united in one thing - disappointment, anger and sadness that the Cranes will not be at the Africa Cup of Nations finals in January.
The Cranes missed out on a place at the Nations Cup as they failed to beat neighbours and arch-rivals Kenya despite dominating the game and having numerous chances to score.
But not everyone can agree on who to blame - the football association (Fufa), politicians visiting training sessions, the David Obua saga or simply bad luck.
Maybe surprisingly coach Bobby Williamson is not being seen as the culprit as would be the case in many parts of the world.
In fact, it's quite the opposite as the overwhelming opinion is that he needs to stay on and carry on his work with the Cranes.
Williamson himself certainly has no intention of quitting.
"I signed a contract to see us through to the World Cup and I'd like to honour that," the Scotsman said after the game.
"Other people might have other ideas about that but we've not done bad at all.
"It's not all about me, it's about Ugandan football and I want to see it flourish and I'd like to be part of it.
"It will not be my decision - I love this country and I love working for these fans."
After 48 hours digesting the bitterest of pills, there still seems to be confusion over exactly what went wrong.
The Daily Monitor newspaper's front page headline screams "Nation in fury" and their focus is on Fufa for allowing a steady stream of politicians to visit the training camp.
This culminated in the country's President Yoweri Museveni arriving on Friday to meet the team - a visit which ultimately led to one of Uganda's top players missing Saturday's game.
David Obua left before the president arrived and was eventually dropped from the squad for his failure to wait and there are still differing reasons given for his early departure.
Many fans think that Obua, who plays his football with Hearts in Scotland, could have made the difference - but media and supporters alike seem reluctant to blame anyone in particular for his absence.
But even though some people are blaming Fufa, the calls for resignations are not particularly vehement.
Writing in the New Vision, journalist James Bakama says that it is time for the older players like Obua to move on and allow the youngsters to come through.
He picks out several names, including Vietnam-based Moses Oloya, as the future of Ugandan football, and Oloya certainly made an impact when he came on as a second-half substitute on Saturday.
Another journalist Mark Ssali, a regular guest on Fast Track on the BBC World Service, says things could have been handled better in the build-up to the game by all concerned - referring to the visiting politicians and the Obua affair.
But he concluded that it is hard to point the finger at anyone for the failure to qualify, instead it should simply be put down to some bad luck in front of goal on Saturday.
After all, Uganda's Group J campaign featured five clean sheets in six games and just one defeat - the 2-0 loss in Angola which sowed the seeds of the Palancas Negras' success and the Cranes' ultimate failure.