Morocco on the march
By James Copnall
BBC Sudan correspondent (and former BBC Morocco correspondent)
Last updated on .From the section Football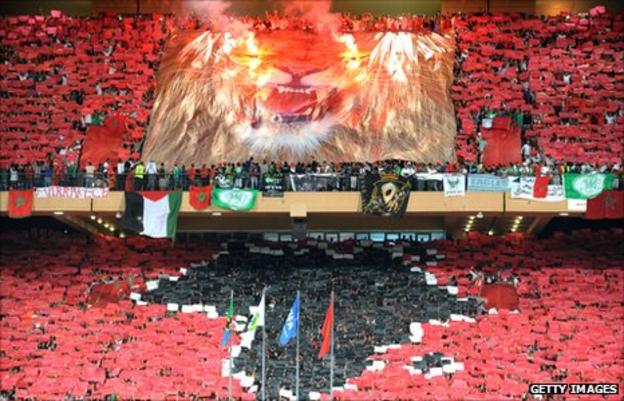 Morocco and Sudan took the last two spots in the 2012 Africa Cup of Nations finals - but their last qualifying games, and final expectations, could not be more different.
"Now our objective is to play to win the Nations Cup, and a preparation programme has already been set up to obtain this objective," Morocco's Belgian coach Eric Gerets said after qualification was assured in Marrakech.
Gerets is a highly successful coach, the winner of 6 leagues in 4 different countries.
He can call on a group of players of real talent, including Taraabt (QPR), Marouane Chamakh (Arsenal), Youssef Hadji (Rennes), Mehdi Benatia (Udinese) and the young talent Oussama Assaidi.
Assaidi, who could also have played for Holland, is just the latest example of a smart Moroccan policy.
The North Africans have made a point of calling up talented dual nationals from the large Moroccan communities in Holland, Belgium, and France - with Youssef Al Arabi and Mounir Al Hamdaoui two further recent examples.
Morocco's coaching set-up is another sign of its strength.
Gerets is assisted by Dominique Cuperly, previously on the staff of a succession of top French clubs, and the Moroccan Olympic team is run by Pim Verbeek, who was Australia's coach in the 2010 World Cup.
But despite all the talent and experience, Morocco's recent footballing history has not been that glorious.
Tough home crowds in Casablanca booed the team on more than one occasion, most often after the gifted forwards opted for extravagance rather than efficiency. Gerets has worked to correct this tendency, and so far the results have been good.
The team's defining qualifying game was the 4-0 thrashing of its greatest rival, Algeria, in Marrakech, a triumph that sent fans into the streets and drivers blasting their horns in cities up and down the Kingdom.
Now the Moroccans hope to use this new-found momentum to repeat their greatest triumph: the 1976 Nations Cup win.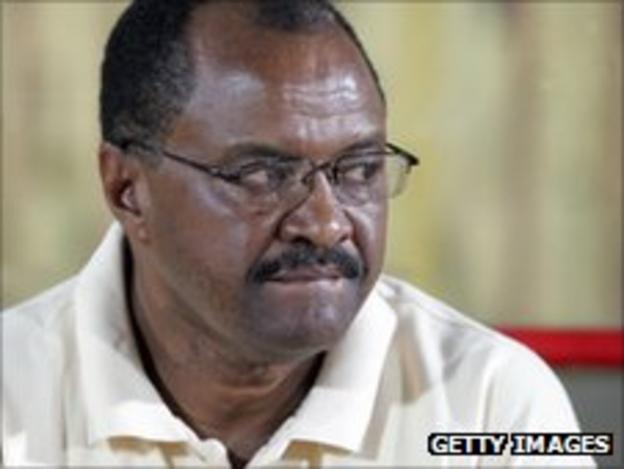 Sudan's ambitions are more limited - and their last qualifying match showed why.
The team lost 2-0 at home to Ghana, and only made it to Gabon and Equatorial Guinea as one of the best second-placed teams - and that on goal difference as well.
Still, the presence of the team at the Nations Cup finals for only the second time since 1976 is a great result.
All the members of the national squad play in the Sudanese league, a real handicap against teams like Ghana or Ivory Coast or Morocco, with their coterie of foreign-based stars.
The Sudanese championship is a two-horse race, so almost all the national team players belong to Al Hilal or Al Merreikh - and they do not play that many competitive games a season.
Sudan's coach Mohamed Abdallah 'Mazda' is well aware of the problem.
"In defence, we need some improvement, and in attack also," he told the BBC.
"We suffer from the huge numbers of professional players from elsewhere in Africa in our league, as this has limited our players' chance to play. All 14 teams have at least one foreign striker!"
That means Abdallah often selects players for Sudan who can't get a regular game for their clubs.
He also admits Sudan's preparation the last time it qualified, for Ghana 2008, was not good enough, and hopes lessons have been learnt.
But the dominant emotion in Khartoum is clearly one of joy.
"Sudan has been absent from the finals for a long time, this is the second time this generation has made it, so I am happy for them," Abdallah says.
"Some big teams have not qualified, so all teams have bigger ambitions now. We have to fight to get to the knock-out stage. But we must be realistic."
Realities in Sudan and Morocco seem quite different.