James Quinn and Colin Clarke want Northern Ireland job
Last updated on .From the section Football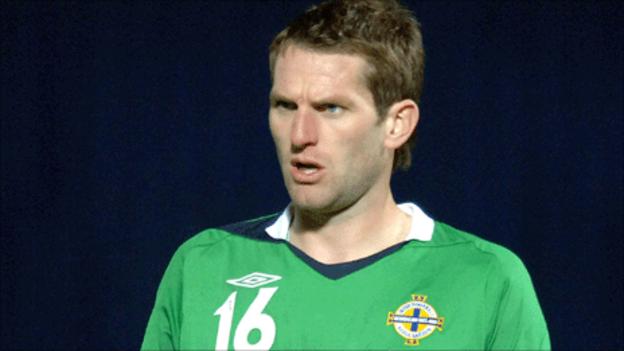 Former international strikers James Quinn and Colin Clarke have entered the race to succeed Nigel Worthington as Northern Ireland manager.
Quinn, who won 50 caps for NI, is on the coaching staff at Luton Town and is completing his pro-licence.
Clarke is second in Northerm Ireland's all-time scoring list on 13 goals and is currently manager of club side Puerto Rico Islanders.
Jim Magilton and Iain Dowie expresed their interest in the job on Monday.
Worthington completed his four-year spell in charge with Tuesday's 3-0 defeat by Italy in Pescara.
On Tuesday, former NI striker Gerry Armstrong said he might be interested in the manager's job - if it was a part-time role.
Former West Brom player Quinn lacks managerial experience but he still believes he has the qualities needed for the post.
"In the past we have had some very experienced managers but they couldn't lead us to the finals of a major competition," Quinn told the Newsletter.
"I feel I am experienced enough having had a long playing career in England and in Holland.
"If I didn't I wouldn't be putting myself forward, after all I am still a fan and want the best for the team.
"I really want to be a top manager and I am convinced I could do a job for Northern Ireland.
"I know the players, I know their strengths and their weaknesses and I am in no doubt I could bring the feel-good factor back to Windsor Park."
Clarke played for Northern Ireland at the 1986 World Cup in Mexico, scoring in the 2-1 defeat by Spain in Guadalajara, and for a time was his country's joint record goalscorer, until he was overtaken by David Healy.
He has managed the Puerto Rico national side and was boss of MLS club FC Dallas, taking them to the Western Conference title.
Puerto Rico Islanders are in the second tier of American soccer although Clarke has guided the side to a place in the region's Champions League, which includes side from the United States, Mexico and the Caribbean.