Steve Cotterill stands out for Forest - John McGovern
By Colin Fray
BBC Radio Nottingham
Last updated on .From the section Football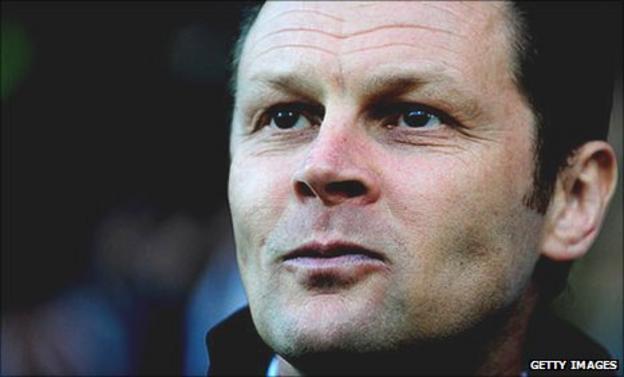 Nottingham Forest's European Cup winning captain John McGovern believes Steve Cotterill is the stand-out candidate to take over as Reds manager.
And McGovern told BBC Radio Nottingham: "He's got enough experience now to do a good job anywhere.
"He's capable of providing the kind of motivation needed to help the players."
Cotterill has had to work within tight budget restraints at Fratton Park, where he still has 20 months to run on his contract.
McGovern, who skippered the Reds to European glory in 1979 and 1980, reckons those kind of qualities are ideal for the new man at Forest.
"He ticks all the boxes in that respect," McGovern said. "He's one of those younger managers who has a lot going for him."
But McGovern does not believe that his old team-mate Martin O'Neill will be tempted into a return to management at the City Ground.
He said: "Martin, if he is going to go back into management, will come out in a top job. I understand the fans' appreciation of him, but I don't think coming down to the Championship will be first on his priority list."
Forest, who are 21st in the Championship - two places and one point below Pompey, had hoped to appoint their new manager ahead of the game at Coventry City, on Saturday, 15 October.
But McGovern, who watches Forest regularly in his capacity as match summariser for BBC Radio Nottingham, says the club should be patient.
"When you've got time, you should use it, and you certainly shouldn't just jump in if you're not absolutely certain," he explained. "You're better off waiting to make sure you get the right man."
And whether Forest have their new man in charge or not at the Ricoh Arena, McGovern's hoping the side can respond well to adversity.
"A change in the manager usually provides a positive input to some of the players who weren't performing when the previous manager was there," McGovern said.
"Suddenly, you might find everything is hunky-dory, even though an interim manager comes in to take over the team for a few weeks until somebody really experienced comes in and does the job.
"It might just be one of those situations where it gives an impetus to the squad to go out and prove that they're still good players - players who made the play-offs last season.
"Players always seem to get off scot free when sackings or resignations come along. They need to accept some of the responsibility for the poor results."