Liverpool future looks bright under John W Henry
By Paul Plunkett
BBC Sport
Last updated on .From the section Football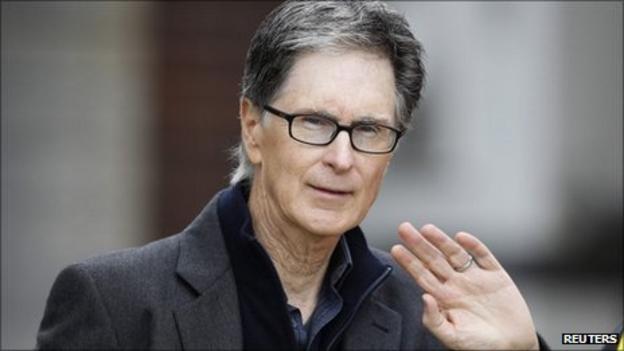 John W Henry slips unnoticed out of a side door at Slaughter and May law offices in London, successfully avoiding the camera lenses of more than 100 photographers camped outside the entrance.
The tall, quietly spoken American has spent the last 24 hours in a public duel with compatriots George Gillett and Tom Hicks for control of Liverpool Football Club and needs to escape the suffocation of battle for a couple of minutes.
He takes off his glasses and scuttles down an alley, inhaling the ice-cold October air to revive him after another sleepless night.
An elderly gent approaches and immediately recognises the man trying to dethrone Liverpool's vilified owners.
"You are the messiah," he says before disappearing into the autumn chill.
Henry knew he was buying more than a football club. Like the famous Boston Red Sox baseball franchise, which he acquired in 2002, he knew he would be inheriting a fan base built on tradition with fierce loyalty and an almost religious fervour where players and managers are worshipped.
Less than an hour later, Henry gets the phone call he has been waiting for - he is the new owner of one of Europe's biggest football clubs.
When Liverpool face Manchester United at Anfield on Saturday, it will have been a year to the day since that life-changing call.
Life-changing for Henry. Life-changing for many of the fans who had marched against the previous regime. Life-changing for Kenny Dalglish, the original King of the Kop, who returned as manager in January after a 20-year absence.
Henry's success will be measured in silverware.
Liverpool fans know they can't compete financially with the likes of Manchester City. "I do not have Sheikh in front of my name," says the 62-year-old, a foreign exchange trading advisor. Indeed, he was listed 20th in the recent Football Rich List with a £600m fortune, a figure dwarfed by the £20bn of Manchester City owner Sheikh Mansour.
But fans expect to see progress and ambition - and Henry has delivered to the tune of £115m in the transfer market so far, although plenty was recouped by the sales of Fernando Torres and Raul Meireles to Chelsea for a combined £62m.
Supporters want stability not hollow promises. They want the football team not the club owner to make the headlines.
Former Liverpool manager Roy Evans, who spent 33 years on the Anfield staff, has been impressed with Henry's first year at the helm.
"He has won over the fans in a very subtle way without forcing himself down their throats," Evans said. "He has been very sensible since he took over. He hasn't rushed into any silly moves or any silly promises.
"He has sat back and had a look at the club as a whole. The club looks in a far better shape than it did two or three years ago."
Evans was part of the famous Anfield 'Boot Room' - literally a boot room where the likes of Bob Paisley, Ronnie Moran, and latterly Dalglish would gather after games to discuss tactics and strategies over a glass of whisky. What happened on the pitch outweighed anything off it.
Dalglish is keen to reintroduce that Boot Room culture, fusing his traditional approach with the modern ideas of assistant Steve Clarke and director of football Damien Comolli.
And Henry is happy to support the Scot. He is only too aware Liverpool's last top-flight title came under Dalglish's stewardship 21 years ago.
Not that 21 years is a long time in the American's eyes. He helped the Boston Red Sox end an 86-year wait for a World Series title in 2004. And then repeated the feat three years later for good measure.
It seems there is more than good business sense to his success. Henry cares about the club but more importantly about the fans, the traditions and the values.
Stan Grossfeld, the two-time Pulitzer Prize-winning journalist from the Boston Globe, was with Henry in Liverpool on the day he bought the club.
He told BBC Sport: "John is eclectic, shy, soft-spoken, intelligent and has a wry sense of humour. He always does his homework.
"When he first arrived in Liverpool and the Press was looking for him, he was secretly meeting with a fans' group.
"He didn't promise them anything but he asked questions and listened."
In fact, he was meeting with Kevin Howson, of the redwhiteandkop.com website, who emailed the millionaire businessman and was shocked to land a one-on-one interview.
Howson said: "Henry listened and was very interested in what I had to say, which is great to see.
"We had got to the point with Hicks and Gillett where football was irrelevant. Our club was going out of business.
"Because of that, Henry still has to win some fans over. We didn't ask questions under Hicks and Gillett but now we will. But it's so far, so good.
"We've fallen a long way back but we feel we've turned the corner."
With change comes suspicion. So what does John W Henry get out of spending £300m on a Premier League football club?
"I do not think any individual buys a sports franchise, or an English football club, to make money," Henry said.
"Maybe a few but they need their heads examined. It is about competing at the highest level in the world's largest sport for us. That is why we are here."
And when Grossfeld asked him on the plane journey back to Boston if he prefers "soccer" as a business or baseball, the answer was succinct: "Well, there isn't a 48% tax [in soccer]."
In the next year, along with managing director Ian Ayre, he will develop Liverpool's marketing strategies throughout Asia - one of the more lucrative areas to tap into.
Television revenues remain top of the list and this week Ayre claimed Premier League clubs should be able to sell their own broadcast rights overseas. This would mean Liverpool could expoit their worldwide popularity without having to share the TV pot with other Premier League clubs.
Henry will also have to tackle the stadium issue at Liverpool, which is still to be resolved after several years of planning. The sticking point is the financial viability of paying for a new stadium without seeing a return through the turnstiles. Naming rights remains key.
And he will continue to invest on the field without leaving the club with a trail of debt.
It is clear Henry has delivered one year in. He has brought Dalglish back, invested in players, respected the traditions of the club and listened to the supporters, the heartbeat of Liverpool.
As fan Kevin Howson said: "For the first time in a long time, we can start talking about the football again."
There's no bigger compliment, Mr Henry.