Missing FA Cup final made Danny Higginbotham 'jealous'
By Phil Cartwright
BBC Radio Stoke
Last updated on .From the section Football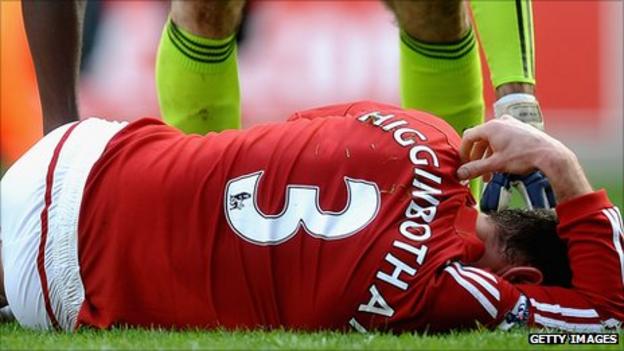 Playing in the FA Cup final is an ambition high on many an English footballer's wish list.
Eight years on, it appeared he would get a second chance with Stoke City.
His winning goal in the quarter-final against West Ham booked a trip to Wembley but Higginbotham didn't play in the semi-final against Bolton.
On 2 April, in the closing moments of Stoke's 1-1 draw against Chelsea, he ruptured his cruciate knee ligament.
"I knew I'd done something and I knew it wasn't great," the 32-year-old told BBC Radio Stoke. "[Stoke physio] Dave Watson came in on the Sunday and he was saying I had done my cruciate.
"The first thing in your mind is, 'How long am I going to be out?' I knew we had the trip to Wembley."
Missing the semi-final was bad enough for Higginbotham but nowhere near as bad as missing the chance to become a part of his club's history.
Stoke had never been to the FA Cup final in their 148-year existence but an astonishing 5-0 win over Owen Coyle's Bolton changed all that.
Unfortunately, the injury would rob Higginbotham of the chance to play in English football's showpiece event against , which the Potters .
Higginbotham admitted: "The days leading up to the FA Cup final were very difficult.
"There was a tinge of jealousy of the lads, performing the way they did in the semi-final. They held their heads up high in the final.
"It was a frustrating time not to be involved but that's when you really have to get things into perspective.
"As a footballer, sometimes you don't mean to but you can take things for granted.
"If you lose the love of the sport at all, it brings it straight back and you realise what you're missing.
"Just going out on the training ground every day makes you appreciate how lucky you are to be doing this. They call it a job but we don't see it as that.
"It was a time for me to reflect on things and then concentrate on getting myself fit."
Tony Pulis was keen to have Higginbotham's experience around the squad in the build-up to the final and the Stoke manager has often commented on how important his former captain is to the club.
Even with Higginbotham a couple of months away from full fitness, Pulis had no hesitation in naming him in his squads for both the Premier League and the Europa League.
"That was a big bonus for me because otherwise you're left in limbo," added Higginbotham. "You've got to come back, get fit, and, if you're not involved, you will maybe go out on loan.
"He has shown faith in me, which I'm very grateful for. Hopefully now I can repay it by getting myself fit and getting back playing again."
After six months of rehabilitation and hard work, Higginbotham returned to action on Tuesday, playing 45 minutes and scoring the only goal in a 1-0 victory for Stoke's reserves against Sheffield United.
Afterwards, Higginbotham said: "It has been a long old time being out but it was all worth it to get out on the pitch again."
Not many would begrudge the Potters another final appearance to allow Higginbotham the chance to make it third time lucky - whether in Europe or on home soil.