Manchester United's Sir Alex Ferguson has no plans to retire
Last updated on .From the section Football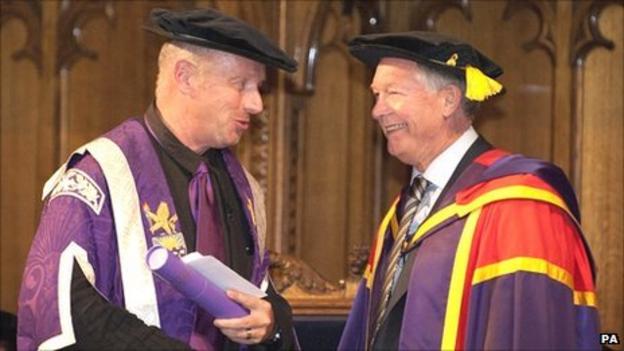 Manchester United manager Sir Alex Ferguson says he no longer thinks about retiring and is looking forward to bringing further success to the club.
The 69-year-old is celebrating 25 years as United boss but has intimated he would step down if his health or hunger for the job deteriorated.
"I just don't think about retirement any more," said Ferguson.
"We've got a good young team and a lot of youth at the club as well as some tremendous staff. The future is good."
Ferguson added: "When you've been on the treadmill for so long, 25 years in my case, and my health is good at the moment, it's just a matter of looking forward to being the manager of Manchester United, rather than worrying about Alex Ferguson.
"The great part for me is still to be out on the field with the players and coaching them. As the game has changed, I have had to change with it. For example, sports science in the last decade has seen a phenomenal improvement and that has become a major development in the game."
The Scot, who was speaking at a ceremony where he was awarded an honorary doctorate by the University of Manchester for his quarter of a century at Old Trafford, added: "I think it's always nice to be appreciated and recognised, and getting this recognition is testimony to all the hard work that has gone on at Manchester United in the last 25 years, not just by me, but by everyone at the club."
Since joining United from Aberdeen in November 1986, Ferguson has become the most decorated coach in British football.
He has won the Premier League title 12 times, the FA Cup on five occasions, four League Cup finals, two Champions League triumphs and also the now-defunct European Cup Winners' Cup.
University of Manchester deputy president and deputy vice-chancellor Professor Rod Coombs, who was also in attendance at Tuesday's ceremony, said: "These two and a half decades of the Ferguson era at United have coincided with - and been a big part of - the renaissance of this city. That renaissance has been manifest in industry, in commerce, in architecture, in the arts, in our university, and in sport.
"Of course we are blessed with two great football clubs here, but today we are celebrating the achievements of one manager who has made a unique contribution at Manchester United, and through that, a unique contribution to the city of Manchester and its prominence in the world.
"Every citizen of Manchester, every business in Manchester, and everything that comes out of Manchester, has an extra visibility and an instant recognition factor all over the world.
"The sustained success of Manchester United is such a potent driver of that phenomenon. And the reason it has been sustained for so long is standing here on the platform today. His achievements are truly unique."