Liverpool's TV rights idea is scandalous - Dave Whelan
Last updated on .From the section Football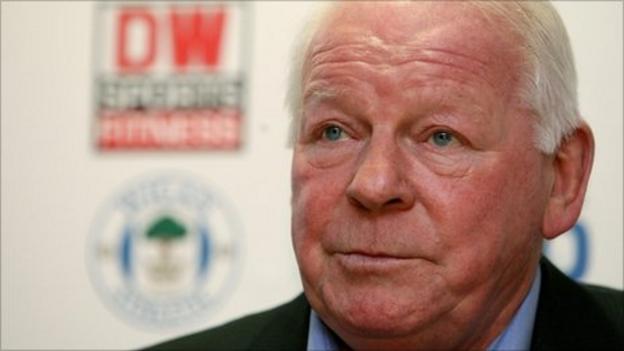 Wigan chairman Dave Whelan says Liverpool's "scandalous" call for clubs to sell their own overseas TV rights would "kill half the Premier League".
But Whelan said: "It is absolutely scandalous. It would kill Wigan Athletic. It would kill Blackburn."
Liverpool would need at 13 other clubs' support for any changes to be made.
But Manchester City, Manchester United, Arsenal and Chelsea are all understood to be against it.
The league's rights deal, which expires in 2013, is worth £1.4bn.
Ayre wants to adopt the Spanish model, where individual clubs have the freedom to negotiate their own packages based upon their global popularity. He believes it would generate far more money for top teams, allowing them to recruit the best players and stay competitive in Europe.
But Latics chairman Whelan is quoted by several newspapers as saying: "It is the 'American Dream', this. They are thinking 'How can we get more money?'
"But you won't get more money by killing the heart and soul of the Premier League and of football in England.
"The worst thing for English football is for teams like Liverpool - the top four let's say - who want to get rid of virtually half the Premier League.
"We will finish up like the Spanish league with just two teams in it, no competition, no anything, no heart and soul in the league.
"What we have is the finest league in the whole world and what Liverpool are calling for would absolutely wreck it. The likes of Wigan, Bolton, Blackburn, Wolves, Sunderland and Newcastle couldn't compete."
Latics manager Roberto Martinez agrees, arguing that the Spanish model has not worked in his native country.
"Real Madrid and Barcelona are getting richer and the others are finding it harder, year by year, to compete.
"That is great for the two football clubs but no good for the league.
"The good thing we have [in England] is the competitive edge. That is there for a reason. We should realise why."
Asked whether fans in Spain are starting to get bored by the dominance of their Big Two, Martinez said: "Yes. They end up supporting Barcelona or Real Madrid.
"They don't support their own [local] teams because they are not competing.
"You end up splitting Spain into two football teams. The league suffers. That is a shame."