Crunch time for Liverpool

By Alan Hansen
BBC's Match of the Day football pundit
Last updated on .From the section Football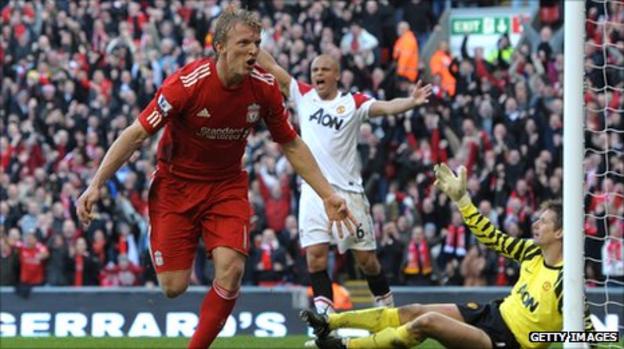 Liverpool and Manchester United meet at Anfield on Saturday - and the incentive is so great for Kenny Dalglish's side that I am backing them to inflict the first defeat of the season on the champions.
It is a bigger match for Liverpool than it is for United, even though it is early in the season.
This match is the big test for Liverpool because, at the end of the last campaign, they improved so dramatically under manager Kenny Dalglish that plenty were predicting they could really make an impact this time around.
Liverpool spent a lot of money in the summer and started well, only to have a blip when they lost at Stoke City, then delivered a totally unacceptable performance in the 4-0 defeat against Tottenham.
They may not have been brilliant in the wins over Wolves and Everton but they got the job done. Now, if they beat United, they will be within three points of them. If they lose, a nine-point difference looks a very hard gap to bridge.
This is why I believe Liverpool will be right up for this and I think they will win. They are playing the team everyone regards as the one to beat in the race for the Premier League title.
It is a game that has potentially huge ramifications for Liverpool's own confidence and aspirations. If they win, it will send confidence and self-belief soaring - if they lose, it is a long way back.
For Charlie Adam, Jose Enrique, Stewart Downing and Jordan Henderson, this is a new experience, while most of United's squad have played in this fixture before.
Liverpool will call on the memories of their 3-1 win against United at Anfield last March, when Dirk Kuyt scored a hat-trick and Luis Suarez was involved in all three goals.
The Kop will look to Suarez to be their match-winner again and this guy is already a hero to Liverpool supporters.
It might be stretching the point to say it is a case of "Fernando Who?" but no-one talks about Torres any more - the name on everyone's lips is Suarez.
I have spoken to a couple of Liverpool players about him and they don't talk so much about what he does on the pitch but about how good he is in training.
The Uruguayan reminds me of Ian Rush. Defenders are drawn into watching him instead of the ball and this guarantees mistakes.
The trick of defending is to make the attacker think about what you are doing. When you spend your time watching the attacker and wondering what he is doing, it causes problems.
This is exactly what Suarez does - he puts pressure on defenders. He has quick feet, natural ability, scores goals and is strong and aggressive. That's some package.
We have seen the effect he has on defenders. He panics them, provokes fear and Rush was the same. It happened at Arsenal when Suarez's presence forced an own goal from Aaron Ramsey and Liverpool went on to win.
We saw it again in the Merseyside derby when Sylvain Distin and Leighton Baines, two fine and experienced Premier League defenders, were aware of him and got into the mix-up that gave Suarez the second goal in Liverpool's 2-0 win.
Liverpool have Steven Gerrard moving towards full fitness but I'm not sure Dalglish will bring him back. He has tended to go with more or less what he has when he is winning unless the situation is in dire straits.
Steven's rehabilitation has been very carefully and sensibly managed by Liverpool's medical team, while Dalglish is able to look at the bigger picture because Liverpool's squad is so much stronger these days.
We saw it when Suarez and Raul Meireles came on to help Liverpool beat Arsenal and again when Gerrard and Craig Bellamy were introduced for the last 25 minutes to help Liverpool defeat Everton.
United have always had great quality on the bench but it has been something of a downfall for Liverpool. This is changing now.
If Suarez is Liverpool's key figure, then rest assured Wayne Rooney will still be Manchester United's. I do not expect him to be fazed by his sending off for England in Montenegro last Friday.
Wayne has had a torrid week and there is no question he let himself down. But Rooney is a great player who can present United with their best chance of winning the game.
I have nothing but admiration for him, despite what happened in Podgorica. I still recall how he was having a nightmare in that defeat at Anfield last season - but was trying as hard in the last minute as he was in the first.
If there has been a concern in United's start to the season, it is that they are conceding too many chances.
Sir Alex Ferguson said the game was too open in the 3-1 victory against Chelsea. Norwich City had chances before United won 2-0 at Old Trafford and Basel were creating opportunities almost at will in the 3-3 Champions League draw.
United currently have four defenders who have not played with each other often and this can create a problem. In a big game, if you offered me four class defenders who have not played with each other much or four half-decent players who had played together 200 times, I would take the latter every time.
Defensive understanding takes time and I'm not talking ten games - sometimes it can take a season.
Phil Jones has been a high-profile introduction to United's defence after his £16m move from Blackburn Rovers. He is going to be a brilliant player but, at the moment, he is not the best positionally. Defending is about three things - position, position, position.
If you have four defenders in a line who know each other's every move, you would not believe how hard it is to get through. But if you have one out of position, the others might go as well and you have problems.
This means Ferguson faces a massive call in central defence with Nemanja Vidic in the frame after playing for Serbia against Slovenia in midweek following his recovery from a calf injury, while Rio Ferdinand is also available.
Ferguson will no doubt take into consideration that central defensive play is about partnership and nothing to do with individuals.
Chris Smalling and Jones may be a fine partnership of the future but, even if they played 50 consecutive games together, they will not be as good as Ferdinand and Vidic have been.
As for Liverpool, it is a big chance for them to catch up to United. They might not have another opportunity so they need to make the most of it.