Steve Tilson and Lincoln City: A year to forget
By Michael Hortin
BBC Lincolnshire sports editor
Last updated on .From the section Football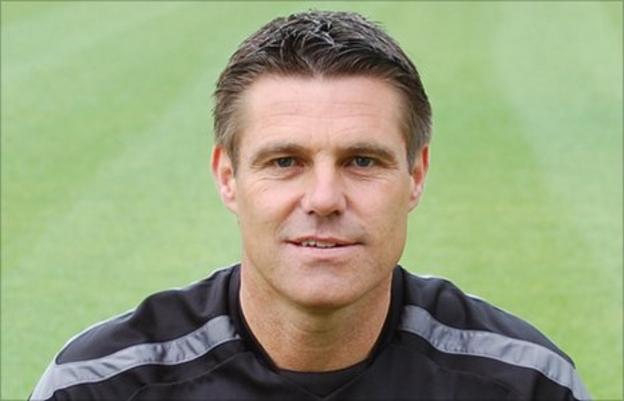 Steve Tilson will be remembered by Lincoln City fans as the man who took the Imps back into non-league football.
His appointment 12 months ago was hailed by many but, by any measurement, his time in charge at Sincil Bank was an unmitigated disaster, as the statistics underline.
Tilson's team needed only four points from their final 11 matches of last season to avoid relegation, but picked up just two to relinquish their League status for the first time since 1987.
And the Imps fared little better under Tilson in the Blue Square Bet Premier, with 12 points from 14 matches, last Saturday's 4-0 defeat at Tamworth proving the final straw.
The reason given for the failings that led to relegation was that of the bad attitude of the players, but this season, save for four of the squad, Tilson has signed all those now playing for the Imps.
He also held up the budget as a reason for his team's problems.
But, while finances are not unlimited, board members at Sincil Bank have made clear that City, on more than one occasion this season, have lost to a club with significantly less resources.
Defenders of Tilson could with some fairness point to the fact that he inherited a team that was hardly pulling up trees, but would Lincoln have been relegated if his predecessor Chris Sutton had stayed at the club?
Tilson also made some curious decisions about players, such as moving Scott Kerr on when his midfield fight was needed in a relegation battle, and keeping the experienced Joe Anyon on the bench, while bringing in very inexperienced loan keepers.
The manager also failed in any way to connect with the die-hard fans or those with a passing interest in the club, and frankly the attitude of many towards the Imps in the last year can best be described as apathetic.
While Tilson can't alone be blamed for that he certainly was part of the reason why that has happened.
As Tilson returns to Essex to contemplate his future after a bruising year, City now have to look at the future and how to rebuild the side.
But, as the club search for their next manager, they need to look to their history when they assess the qualities required.
Lincoln's most successful post-war managers - Graham Taylor, Colin Murphy and Keith Alexander - had very similar qualities.
They were all able to recruit well, often from a level lower than where the Imps play. They made the team greater than the sum of its parts and they also connected with people in Lincolnshire.
City are in danger of becoming an irrelevance to the wider community. They now need a figurehead in the dugout, who will rally and inspire players and supporters and give the club direction.
All that said, people should not expect that someone to arrive and wave a magic wand to turn things around.
The Imps' road back to the Football League could be a long one, with lots of hard work needed.