Nigeria coach Samson Siasia says he want to stay
Last updated on .From the section Football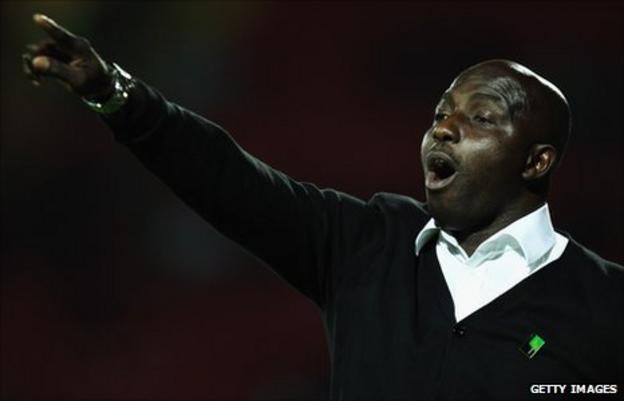 Nigeria coach Samson Siasia has issued an impassioned plea to be given more time in the job.
The Super Eagles failed to qualify for the 2012 Africa Cup of Nations and the Nigeria Football Federation (NFF) meets on Thursday to decide his fate.
"I love this job and I know what I'm doing - I just need some time," Siasia told the BBC in an exclusive interview.
The coach issued a strong defence of his record in the ten months he has been in charge.
"Let [Nigeria fans] look at what we have been doing, let them look at the games we have played and compare them with videos of before I took over - they can see improvements, they can see changes.
"They can see the players running - not what we saw at the World Cup. I don't need to tell them - let them go and look," Siasia told the BBC's Oluwashina Okeleji.
The coach addressed head-on the problems he has faced in trying to run the squad, especially in terms of discipline - and admitted he had difficulties with some members of the camp.
"Most of the players causing the problems are the ones who have been there for more than 5 years - they just want to take over the camp and I won't let them," he said - explaining why there had been persistent discipline problems within the squad.
"I am not a brutal person or a dictator, I try to compromise - but I am the head coach and whatever happens I will take responsibility."
He hinted that, if given the chance to continue, he would be reshaping the senior team.
"It takes time to build a team - give us some time. We know Nigerians are hurting but give us some time."
Siasia said he had been given all the support he wanted from the NFF - a point echoed by the man leading the enquiry in to whether he should keep his job, Emmanuel Ikpeme of the NFF's technical department.
"No Nigeria coach, not even a European coach, has ever enjoyed the kind of support that Samson Siasia has had as coach of the Super Eagles," Ikpeme told the BBC.
Nigeria's 2-2 draw with Guinea last weekend left them out of the Nations Cup finals in Equatorial Guinea and Gabon and prompted an outcry amongst fans.
The coach admitted that the result was a disappointment and praised his players for turning out in the friendly match with Ghana in the UK on Tuesday.
"It takes a lot of courage and hard work to get these boys back to play the way they played and I thank them for trying to look forward not backwards," the coach said.
Siasia was formally appointed Nigeria coach last December, signing a four-year contract to lead the Super Eagles.
You can hear the full interview with Samson Siasia on Fast Track at 1600 GMT on Friday on the BBC World Service.