Does third-party ownership benefit or hinder football?
Last updated on .From the section Football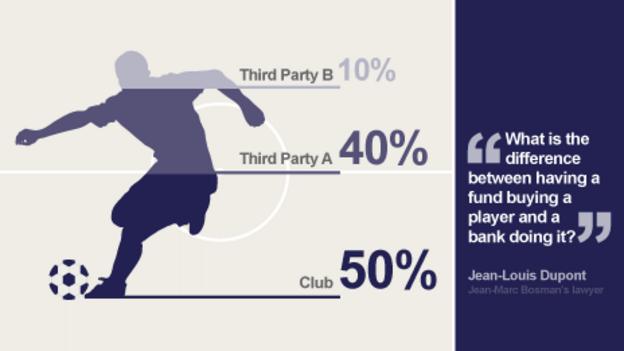 As well as alienating supporters of both Manchester clubs, Carlos Tevez's name is synonymous with another Premier League controversy - third-party ownership.
West Ham were fined £5.5m in 2007 for allowing a third-party company to own rights in Tevez and Javier Mascherano.
That season, Tevez scored at Old Trafford to help keep the Hammers in the Premier League, leading to a long legal battle with Sheffield United over compensation for the Blades' relegation.
Third-party ownership is a practice banned in England but prevalent in South America and parts of Europe.
Essentially, companies buy a percentage of a player in the hope that, if he becomes a star in the future, that percentage can be sold for a large profit.
Clubs selling a player they only part-own receive less of the transfer fee - but, on the upside, if they are partnering with a company to sign a player, they would pay a lower fee initially.
That could benefit a club such as Everton, who are struggling to find funds to sign players.
With limited resources of their own, a third party would pay the bulk of a transfer fee, allowing the player to turn out for the club over the course of his contract.
The company would then profit if the player was subsequently sold on for a higher amount.
Those in favour argue that the system provides clubs with new sources of finance, while critics say it takes millions of pounds away from the game and raises issues of transparency and integrity for football's regulators.
Premier League and Football League rules require clubs to buy out any third parties which claim to own the economic rights in a player before their transfers are permitted in the top flight.
The ban was introduced at the start of the 2008-09 season following the Tevez affair.
Last season QPR were fined nearly £1m for breaching regulations regarding the 2009 signing of Alejandro Faurlin.
Ex-Arsenal chief executive David Dein condemned third-party ownership as "enslaving players" while, in Brazil, footballers owned in this way have been dubbed "pizza players" because their rights are sliced​​ up.
But it is on the increase. One recent entry to the third-party market is Hollywood talent firm Creative Artists Agency Inc (CAA), who manage film stars such as Tom Cruise and George Clooney.
It now runs an investment fund - Quality Football Ireland Ltd (QFI) - that co-owns players with clubs. Jorge Mendes, the agent of Real Madrid's Jose Mourinho and Cristiano Ronaldo, is a consultant to QFI.
With the European economy imploding, third-party ownership potentially creates a new revenue stream for clubs. Portuguese blogger Ben Shave said: "It has become the primary source for an instant cash injection in Portugal."
In September, Sporting Lisbon, who finished 36 points behind champions Porto last season, released their accounts to reveal QFI owned 50% of seven of its players. Turkish side Besiktas, Portugal's Braga and Spain's Real Zaragoza are other clubs working with QFI.
It is not hard to understand why Sporting have opted for this method of cash infusion.
While they posted a 43m euro (£37.5m) loss last season, Porto have made over 130m euros (£113m) on transfers since 2008, while Benfica have pocketed over 100m euros (£87m) in just over a year.
Professor John Beech of Coventry University said: "I'm against credit being too easily available to a sector which has a uniquely bad record for business failures.
"If a club is cash-strapped, its problems won't be solved if it doesn't sort out its business model."
But Tevez's adviser, Kia Joorabchian, argues that third-party ownership could potentially increase competition in the Premier League.
Earlier this month, he said: "Everton have just said they don't have money to invest in players.
"If the banks are unwilling to lend them money, there needs to be another vehicle that is allowed to lend them money to enable them to compete and challenge. If not, it will always be the top four competing for the title."
Unlike the Premier League, the rules laid down by world football's governing body Fifa do not prohibit investment funds like QFI. However, Fifa does ban third parties having "the right to influence the club's choices in employment and transfer-related matters."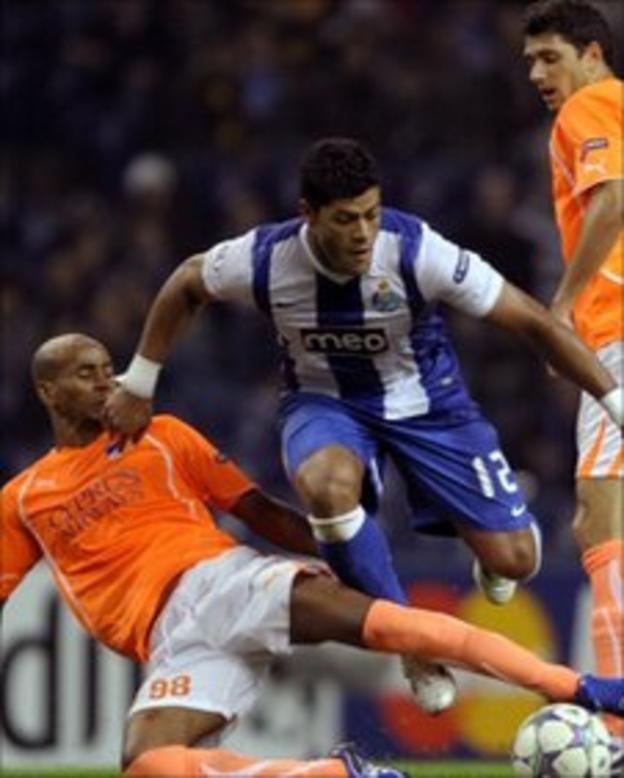 But just how do you police "influence"?
The anonymity of investors in third-party agencies also raises the possibility of a conflict of interest - and this has led to calls for a Uefa or Fifa register of club and player ownership interests.
Lawyer Daniel Geey of Field Fisher Waterhouse said: "If club owner A has an economic interest in player B and club A plays against a team fielding player B, there is a potential risk that the authenticity of competition could be downgraded by an owner's influence on a player.
"Even if this was unlikely to occur, the need to protect the integrity of outcome - and uphold the highest principles of fair play - may be considered crucial at a time of alleged football match-fixing in various countries."
CAA, Uefa, Sporting and Besiktas all declined to discuss the issues raised by third-party ownership when approached by the BBC.
But what about a level playing field in European competitions?
Sporting, Braga and Besiktas are playing in the Europa League, with both Braga and the Turkish side in groups containing English teams - Birmingham and Stoke respectively. If they can use third-party owned players, surely that provides them with a competitive advantage over their English rivals?
And, in the light of Uefa's impending Financial Fair Play regulations, how will players who are co-owned by third parties be treated on clubs' balance sheets?
Financial blogger Swiss Ramble said: "Financial Fair Play is focused primarily on profit and loss. Debt is only an issue insofar as a club can service it [pay the interest].
"If a club pays less as a result of third-party ownership, its need for debt would be lower, so interest would be lower, meaning there would be a benefit."
Third-party ownership would also make it easier for clubs to balance their books because they would pay a lower transfer fee. In terms of accounting, that fee is spread across the term of a player's contract length, also known as amortisation.
With a player on a five-year contract, that would mean five years with lower transfer fees included in their accounts, freeing up revenue.
Three years ago the world's economy got into serious trouble partly as a result of the use of complex financial instruments that few people understood.
Will the same be true of football in its search for funds to fuel dreams of glory?