Swansea manager Brendan Rodgers hails midfielder Leon Britton
Last updated on .From the section Football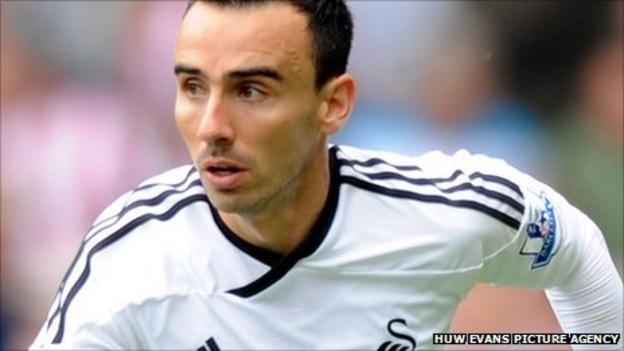 Manager Brendan Rodgers has hailed midfielder Leon Britton as one of Swansea's star performers.
Britton is available for Swansea's trip to Norwich City after missing the win over Stoke with a back injury.
The former West Ham player is in his second spell with Swansea having rejoined the club from Sheffield United.
"He's been fantastic for us this season. He's a terrific young player," said Rodgers.
Britton had been an ever-present in the Premier League this season before he suffered an injury during the defeat at Chelsea.
The 29-year-old had injections as part of his treatment and missed the game against Stoke but Rodgers is delighted he is now fit to return.
"It was too much of a risk [the] last game. Mark Gower came in and was outstanding," added Rodgers.
"Leon offers the team so much balance and control and it's good to have him available for selection."
Swansea's previous away games in the Premier League this season were visits to Manchester City, Arsenal and Chelsea.
But Rodgers believes the task facing his side at Carrow Road will be equally tough against their fellow promoted side.
"It doesn't matter if it's Manchester City, Manchester United or Norwich City. Getting an away win in the Premier League is very, very difficult," he said.
"We don't go in and expect anything. We go to expect to do our best and to perform well.
"They understand it will be a tough game and we hope we can get the result and show the form we've been showing as of late.
"We've come off the back of a brilliant result against Stoke but this is a new challenge.
"I've got a great belief in the players here that we can go to any arena in the league and do very well. When we've performed well it normally means we pick up points."
Norwich and Swansea are ninth and 10th respectively in the Premier League, with both sides amassing eight points after seven games.
Paul Lambert's side scored two late goals to defeat Swansea 2-0 in the Championship last season after David Cotterill has missed a penalty for the visitors.
"Norwich go into the game with a very good home record in the last couple of seasons," said Rodgers.
"Last season we were terrific there, it was a wonderful performance. But we never got the result.
"We arrive there a better group this year. But we know it's going to be a difficult game."