Maurice Ross and Mark Fotheringham join Livingston
Last updated on .From the section Football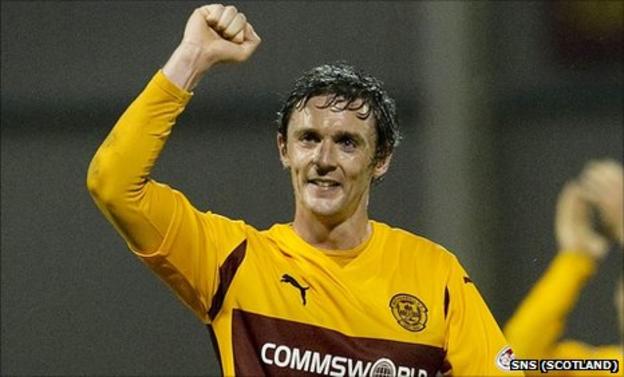 Former Old Firm duo Maurice Ross and Mark Fotheringham have signed up at Livingston until January.
Defender Ross, 30, has travelled widely since leaving Rangers six years ago, having played in Norway, Turkey and China along the way.
Capped 13 times for Scotland, his last stop was at Motherwell last season.
Fotheringham, 27, started his career at Celtic and also has experience of playing abroad, with spells in Germany and Switzerland and Cyprus.
The former Dundee and Norwich midfielder was using the training facilities of another of his former clubs, Dundee United, after returning to Scotland after exiting Anorthosis Famagusta and had a trial period with Sheffield United last month.
Agent Raymond Sparkes told BBC Radio Scotland: "Both of these high-profile players contacted me with two or three days of the transfer window left, which wasn't a tremendous amount of time.
"But given that they were free agents, it meant that I could continue to work for them.
"The opportunity was afforded to a number of Scottish Premier League clubs to look at these guys but no one would bite.
"So we got our heads together and decided we needed a good partner for these guys to go and show what they can do and get themselves ready for the next transfer window.
"I couldn't think much further than Livingston, which is a very well run ship.
"When I made contact with the boys there, they jumped at the chance.
"The boys are playing for expenses and there will be win bonuses but, with the utmost respect to the First Division, those don't amount to too much."
If the relevant registration work is completed in time, both players will be in the squad for Saturday's visit to Ayr United.