Wayne Rooney's Euro 2012 ban is a joke - David Moyes
Last updated on .From the section Football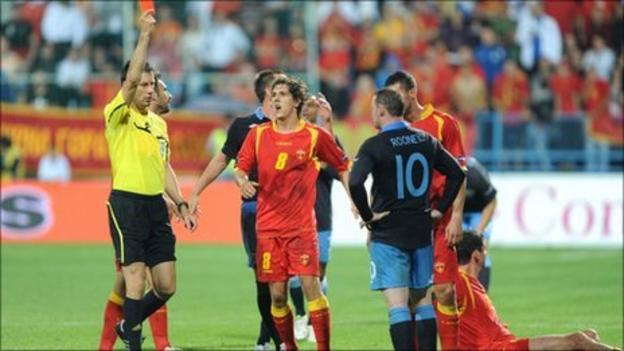 David Moyes says Wayne Rooney's three-game Euro 2012 ban is a "joke".
The Everton manager believes Uefa wanted to make an example of the England striker but have delivered an "excessive" punishment.
Tottenham boss Harry Redknapp described the length of the suspension as a "surprise and a massive blow".
Moyes, who managed Rooney from 2002-2004, said: "I think the three-game ban is a joke. It wasn't right but I think the three games is a bit excessive."
The Everton boss does think Rooney, 25, should still be in Fabio Capello's England squad and says there is no rush to make a decision on who else should play up front.
He added: "There is no doubting Wayne shouldn't have done what he did but I thought they (Uefa) would have near enough let it go.
"Wayne Rooney is one of the biggest players on the world stage - get him involved in the big games.
"Everyone is talking about it but there are probably six months until the summer comes.
"You can decide [based] on a lot of things; the form of other players, the group, your chances of getting through, Wayne's form.
"It might be better to leave the boy at home and get a good summer. I'm a Scotsman, so I hope he stays at home!"
Asked whether Uefa had decided to make an example of Rooney, Moyes added: "Yes, I think everybody wants to pick out Wayne."
Redknapp, who is tipped as a leading contender for the England job when Capello leaves after Euro 2012, said the sending off should be a "big lesson" to Rooney.
"He has done it a few times," he said. "To be honest he seemed to have got over that. After he did, it he realised he had made a big error.
"I was surprised when it was three games. It is a massive blow."
Redknapp said despite the ban, Rooney must be selected in the squad. "He is a top, top player and our top striker without a doubt," he added.
"There are other people Fabio Capello will be looking at. Steven Gerrard can play behind the front man. Ashley Young is in great form."
Sunderland manager Steve Bruce agrees that Rooney should still go to Euro 2012.
He said: "Hopefully we are good enough to go and qualify without him.
"If you then have your best player coming back in the quarter-finals that will be a boost."
For the latest updates and reaction to this story, read Sportsday Live. Have your say on Twitter via the hashtag #bbcsportsday.