Peter Lawwell appeals to Celtic fans over chanting
Last updated on .From the section Football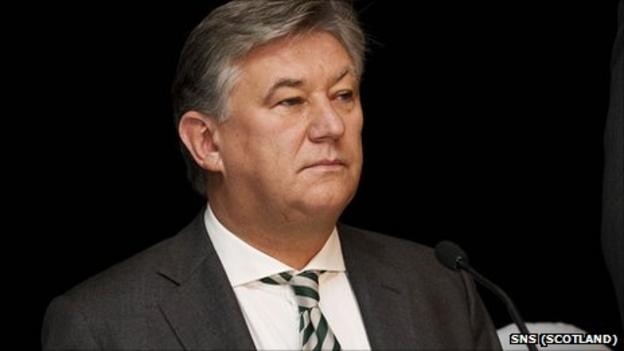 Celtic's chief executive Peter Lawwell has urged a section of the club's supporters to stop singing pro-IRA songs.
Addressing the annual general meeting at Celtic Park, Lawwell said: "Chants glorifying the Provisional IRA are totally unacceptable.
"It is an embarrassment to the club; We don't want it, we don't need it."
Chairman John Reid stepped down after four years in the role.
Lawwell, who was returned to the board, said the club did not want to be associated with unacceptable chanting.
"One, it is wrong, and it is an embarrassment to the club and embarrassment to the majority of supporters.
"We were inundated by complaints from our own fans after the game at Tynecastle [on 2 October].
"We have dealt with it at Celtic Park and we will do all we can to make sure it doesn't happen home or away.
"We don't want it, we don't need it. We have the best supporters in the world and hold that reputation dear."
Lord Reid, who will be succeeded by Iain Bankier, told the club's annual meeting that their recent record "has not been good enough".
The club have failed to win the SPL title for the past three seasons and trail defending champions Rangers by 10 points this term.
Lord Reid said the board would not "put the club in peril" by overspending.
Describing his four-year reign as club chairman as the greatest privilege of his life, Lord Reid said he hoped to be remembered as a fighter who spoke out against unfairness at the Scottish Football Association.
Celtic and the governing body clashed over refereeing standards during a turbulent season last year.
Reform at the SFA achieved what Celtic wanted in terms of accountability and transparency, he added.
On replacing the former Home Secretary at Celtic Park, Bankier said: "I feel quite emotional and incredibly humble.
"It is really impacting on me, the incredible lifetime privilege to take over the helm of an institution like this.
"Humble, that's the word. That's a bit of a cliche but that's how I feel.
"I've grown up with Celtic all my life but it is when you put this suit and tie on and face people, it really hits home to you what it's all about.
"What I bring is 35 years of my career.
"I have been in law, finance, public companies and private companies, big situations and small situations and so I will bring fresh thinking to every aspect of what we are doing."