Plymouth Argyle administrators threaten to quit
Last updated on .From the section Football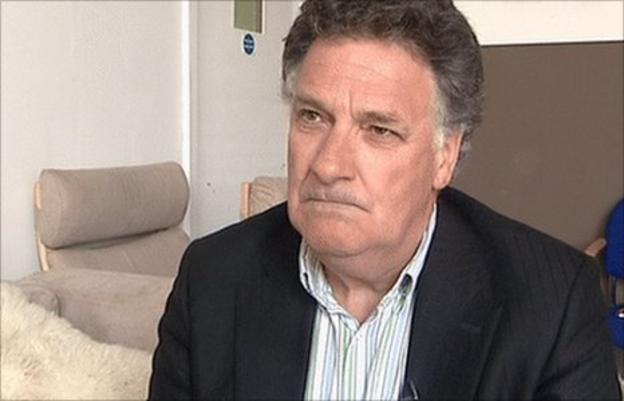 The administrators running Plymouth Argyle have threatened to resign after being "abused" by supporters.
The P&A Partnership says email threats have been made against its staff and property.
"Unless protestors desist it is highly likely that the joint administrators will take steps to resign from office on Monday," the statement from administrator Brendan Guilfoyle read.
The Argyle Fans Trust said none of its fans have sent such messages.
The Trust had encouraged supporters to put pressure on the administrators to get a takeover deal done.
"The initial note from the Fans Trust contained an instruction to fans that their points were made fairly and with no foul language and people were treated with respect at all times," said Trust leader Chris Webb.
But Guilfoyle said the threats have meant they have not been able to fully concentrate on running the club.
"Not only is the campaign disrupting our business and taking our focus off the job in hand, we are also deeply concerned about the associated risk to the wellbeing and personal safety of The P&A Partnership staff," he added.
"No business or its employees should be subject to such foul, abusive and threatening emails.
"If we have to withdraw then the company's former directors will have to resolve the current issues and we anticipate that HM Revenue and Customs would take immediate steps to wind up the club."
The statement comes as discussions between Guilfoyle's firm and bidder James Brent's Akkeron Group continue.
Brent met with the Football League on Thursday in a bid to move the deal along.
The statement said that the administrators are still owed around £600,000 in fees and have not paid players and staff wages because they are owed that cash.
"...the amount they [Akkeron] are prepared to contribute to the administration costs is currently unacceptable," it continued.
"The reason we can't pay the wages is that we simply don't have the surplus after deducting the costs we have to pay for running the club."
But Webb said the reason they have spent so much money is because the administrators gave preferred bidder status to a rival bid from Truro City chairman Kevin Heaney and Gibraltar-based property firm Bishop International.
"They backed the wrong horse in Kevin Heaney," Webb commented.
"They made the wrong choice and it's not the job of the players and fans to pay for their incompetence."
Argyle have been in administration since March after having financial problems almost a year ago.