Fifa bans four Caribbean officials after cash-for-votes inquiry
Last updated on .From the section Football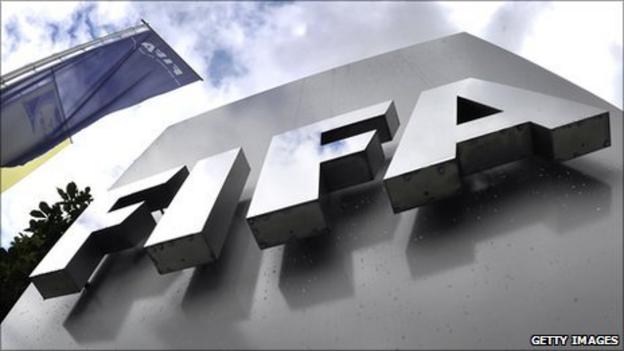 Four Caribbean football officials have been banned by Fifa for their part in a cash-for-votes scandal in the run-up to the governing body's presidential election this year.
The longest ban was the 18 months handed to Franka Pickering, president of the British Virgin Islands FA.
Jamaica's Horace Burrell was banned for six months, three of them suspended.
Osiris Guzman of Dominican Republic and Ian Hypolite from St Vincent and the Grenadines were given 30-day bans.
Fifteen days of Guzman and Hypolite's bans were suspended.
Two other officials were reprimanded and fined by Fifa's ethics committee, one was reprimanded and another five were given warnings.
The suspension of acting CFU president Burrell means he will have to withdraw his candidacy for the CFU presidency.
The election will be held in Jamaica next month and will now see fellow Jamaican Ralph Anthony James going up against Harold Taylor of Trinidad & Tobago.
The cases relate to a meeting in Trinidad in May at which it was alleged that Fifa presidential candidate Mohamed Bin Hammam handed out bribes to Caribbean members of Concacaf.
The ethics committee ruled in July that Bin Hammam had made or offered cash gifts of £25,000 to each of the 25 Caribbean Football Union association chiefs at the meeting in Port of Spain on 10 and 11 May.
The committee watched a video of former Fifa vice-president and CFU president Jack Warner apparently urging the officials to accept the cash gifts.
Warner was also charged with bribery along with Bin Hammam, the Asian confederation president who had been challenging Sepp Blatter for the Fifa presidency, but the investigation was dropped after he resigned from football activities in June.
Pickering and Burrell were among the officials who insisted they had no knowledge of any cash gifts being offered or received at the Trinidad meeting.
Aubrey Liburd of British Virgin Islands FA and Hillaren Frederick, president of the US Virgin Islands FA, were reprimanded and fined £210 each while Anthony Johnson, president of the St Kitts and Nevis FA, was reprimanded.
David Hinds and Mark Bob Forde (both Barbados), Richard Groden (Trinidad & Tobago), Yves Jean-Bart (president of the Haiti FA) and Horace Reid (Jamaica) were warned.
Felix Ledesma (Dominican Republic) was considered not to have committed any violation.
The cases of David Frederick (Cayman Islands) and Joseph Delves (president of the St. Vincent and Grenadines FA) were closed since they are no longer football officials.
"Should they return to football official positions, their cases would be examined again by the ethics committee," Fifa said.
Last month, Fifa handed a 26-month ban to Colin Klass, president of the Guyana FA, for his involvement in the Caribbean Football Union meeting in May.
The decisions came one week before a Fifa executive committee meeting where Blatter is expected to give a progress report on the fight against corruption.