Wenger believes Alex Oxlade-Chamberlain has Euro 2012 chance
Last updated on .From the section Football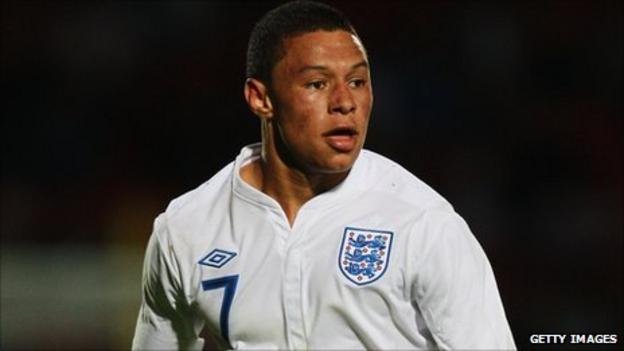 Arsenal boss Arsene Wenger says winger Alex Oxlade-Chamberlain could be ready to go to the European Championship finals with England next summer.
The £12m summer signing from Southampton has also scored in his last two club appearances.
"I don't rule him out. It depends on his progress here," Wenger said.
England are set to be without Wayne Rooney for the group stage of Euro 2012, following a three-match ban imposed by Uefa for the Manchester United striker's sending-off against Montenegro.
And Wenger, who advised former England manager Sven-Goran Eriksson to take another Arsenal youngster Theo Walcott to the World Cup in 2006 as a 17-year-old, believes Oxlade-Chamberlain could be a surprise package for England in Poland and Ukraine.
The Frenchman added: "You cannot rule him out, because he has the basic talent. In the next five, six months we will see how he adjusts to the physical intensity of the game."
Wenger said Oxlade-Chamberlain, who is yet to make a senior England appearance under Fabio Capello, had surprised him with the speed with which he has settled in at Emirates Stadium.
Asked whether the youngster had exceeded his expectations, Wenger said: "Yes, I did not expect him to be so comfortable as quickly as that, so he has done extremely well.
"He still needs some more time to adapt to the intensity of some of the games [but] he has the quality already for top-level Premier League games."
Wenger said the experiences of Walcott, who did not feature in any of England's games in Germany in 2006 and was then left out of the squad four years later at the World Cup in South Africa, did not mean Oxlade-Chamberlain should be overlooked.
Wenger said: "Theo Walcott went at 17 years of age to the World Cup and Chamberlain is already 18 now. They are at different stages.
"I believe that Chamberlain is more in the build-up of a game and Walcott is more striker-minded. They are different types of players, both gifted.
"Slowly England gets players out of the youth system that have the quality to play on the international level, at a very interesting level."