Ryan Giggs keen to sign a new deal at Manchester United
Last updated on .From the section Football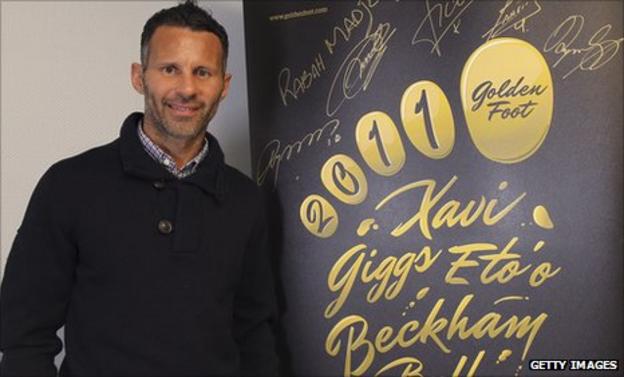 Manchester United winger Ryan Giggs has said he is keen to extend his 21-year stay at Old Trafford.
The 37-year-old is on a year-by-year contact with the Premier League champions, and will seek an extension to his current deal after Christmas.
"Nothing interests me but playing with this team," he said after receiving an international football award in Monaco.
"After Christmas I will go to Sir Alex Ferguson's office and talk about my contract," he added.
Giggs is the most decorated player in English football, having won 12 league titles, four FA Cups, three League Cups and two Champions League titles in his career, and was in Monaco to receive the Golden Foot for 2011 - an award open to players over the age of 29 who are still active in the game.
Speaking to Italian magazine Calciomercato, he said that he did not envisage any problems over a new deal, given his strong relationship with his United boss Ferguson.
"I have a great relationship with him. All it needs is that I sit down at a table with him to renew it," he said.
In the magazine interview, Giggs goes on to warn Manchester City striker Mario Balotelli that he is in danger of seeing his talent overshadowed by his disciplinary problems.
Balotelli has had a mixed career at City, scoring 13 goals in 33 games but also receiving 11 yellow cards and two reds, and being substituted in disgrace on a pre-season tour of the United States.
"He is really very good, but also a little strange," Giggs said.
"God knows how many fines he has received! In England, no one except Manchester City fans really like him. But I think that he is talented."
Balotelli has also hit the headlines for his exploits off the pitch, with Italian prosecutors investigating his visits to known mafia hotspots, although there is no suggestion the striker has committed any offence.