Celtic chief warns of 'extinction' for Scottish football
Last updated on .From the section Football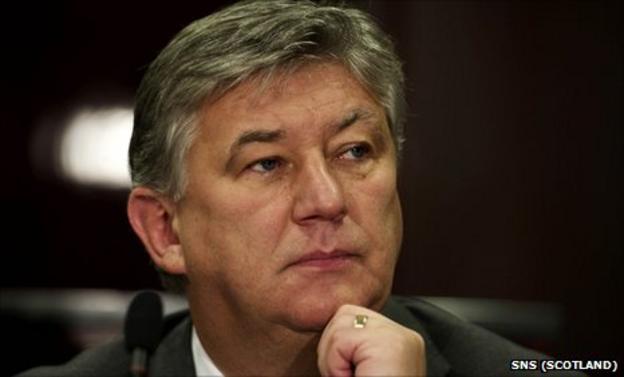 Celtic chief executive Peter Lawwell fears for the future of Scottish football unless big changes are made.
Departing chairman John Reid questioned the sustainability of the game and said "radical thinking" was required.
"This social phenomenon of football in Scotland is under threat of extinction," said Lawwell, who lamented a "chronic lack of investment".
He added: "A lot of good work is going on at the SFA, a lot of good work is going on at the SPL, but is it enough?"
At Celtic's annual general meeting, Lawwell spoke about being unable to compete with the "ridiculous" transfer fees being paid in England and once again highlighted the lack of finance in Scotland, due mostly to poor television revenues.
"It's not Celtic and Rangers here, it's the nation," he said.
"The product here in Scotland isn't the best. There's a chronic lack of investment in the game.
"The reason is that people don't see the worth of the payback, and until that's sorted we're going to have real problems."
Pointing out that the Scottish Premier League's TV deal is worth just 1% of the agreement in place for England's top flight, Lawwell added: "What we need to do is to provide an environment that will provide fresh investment, bring hope and aspiration back into the game and take off.
"We're going one way in a Scottish context. As a club we have a duty and a responsibility to prevent that.
"It's nothing imminent, it's long term. There'll be TV deals for the SPL, there's a TV deal for the Scottish national team. They'll still go on, but whether it grows is another thing.
"The strong will get stronger and the weak will get weaker."
Asked if the type of growth needed was possible in the SPL, Lawwell replied: "It's very, very difficult to see unless there is a route out in terms of to a bigger environment, to an extended European environment.
"The European Club Association was a forum to discuss these matters. They have been raised but the frank answer is that they were getting nowhere fast.
"What you find is the polarisation of European football - between leagues and within leagues - and at some point there will be a breaking point.
"That eliminates competition, the lifeblood of sport, and we need to rekindle that somewhere."
The outgoing Reid, who has been replaced by Ian Bankier, was similarly pessimistic.
"We have an unsustainable model for Scottish football," said the former Home Secretary.
"And in its crudest terms, you cannot go on earning 1 or 2% of what other countries' clubs are earning and in any way meet the expectations that our history would determine.
"We are a big club with an international following, with a huge potential market, but like many other clubs we are locked into a league that has no commercial value, or very little, in a world where it is the commercial value of that money that is determining performance on the park.
"What's new about that? The extent is new and I think the hardness of finding solutions is new because every year the problem gets worse."