Uefa mulls options should Sion win Europa League case
Last updated on .From the section Football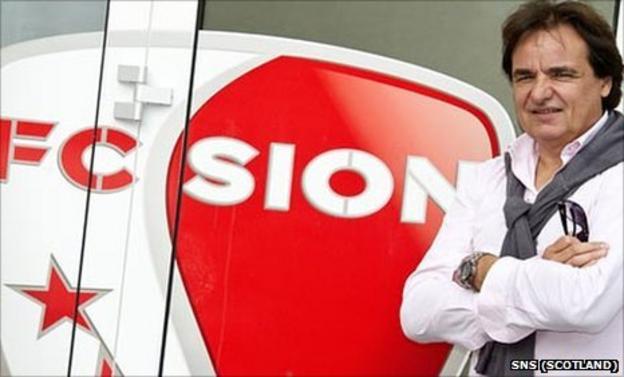 Celtic could be forced to play Sion again in the Europa League after Uefa outlined plans to have the Swiss club reinstated.
European football's governing body is considering all options should the club be successful in their appeal against expulsion.
Sion defeated Celtic 3-1 on aggregate but were thrown out for fielding ineligible players.
Uefa may decide upon a five-team group, with Sion added to the line-up.
Options being explored by Uefa include cancelling all previous results in the group, putting Sion into the current group, or allowing them passage into the last 32 through a play-off.
The Court of Arbitration for Sport is due to rule on the case, with Uefa still determined that Sion should not be reinstated.
Uefa will contact the clubs in Group I later to outline provisional plans should Sion succeed with their appeal.
Celtic will not be expelled from the Europa League, even if Sion return.
The Scottish Premier League club took Sion's place in Group I and have already played games against Atletico Madrid and Udinese.
Sion were expelled from the tournament and an initial appeal against the decision was rejected.
In a statement on its website on Saturday, Uefa outlined its desire for accelerated action in the case, via the Court of Arbitration for Sport.
"It seems that FC Sion has repeatedly attempted to obstruct justice and, as quoted by the CAS decision of yesterday, has engaged in a "clear abuse of procedures" to delay or postpone a decision on the merits of the case," the statement said.
"This is obviously detrimental to the smooth running of the competition and also has a negative impact on the other clubs participating in the group, for whom FC Sion has no apparent respect."