Kevin Ratcliffe praises Andy Morrell impact as Wrexham boss
Last updated on .From the section Football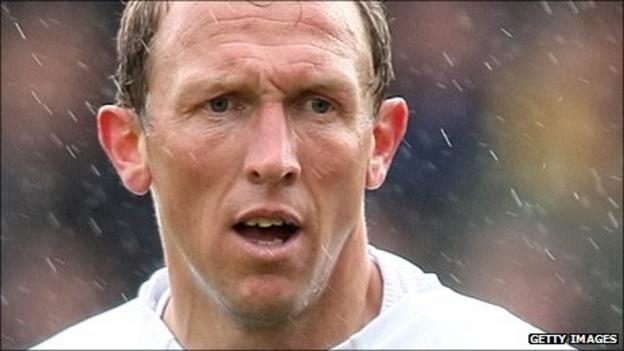 Former Wales captain Kevin Ratcliffe has hailed Andy Morrell's impact as Wrexham's caretaker manager.
Saturday's 4-0 home win over Stockport gave Morrell his fifth victory from six games since replacing Doncaster-bound Dean Saunders at the helm.
Striker Morrell was initially given four games in charge, but his time in charge has been extended indefinitely.
"It was enlightening to see what freedom and confidence they are actually playing with," said Ratcliffe.
Morrell scored Wrexham's second on Saturday as he chose himself in the starting line-up for the fourth successive game.
Nat Knight-Percival opened the scoring after just three minutes and added a third immediately after the break.
Jake Speight rounded off a faultless afternoon with a fourth 15 minutes from time.
"It could have been five or six, or seven or eight even - that's how well they played," added former Everton captain Ratcliffe.
"They created great chances; a couple were headed off the line, one hit the bar, Speight had a one-v-one when the keeper made a great save.
"That was as good as I've seen Wrexham for a few years."
The continuing delay to the proposed takeover bid by the Wrexham Supporters Trust prevents the club from appointing a permanent manager.
Morrell, who has yet to reveal if he intends to apply for the post, has said he expects to be in charge "until later in October".
Ratcliffe says the players have obviously responded to Morrell's leadership, but warned that the job will change immensely if he takes over on a full-time basis.
"He hasn't brought anyone in yet, the only person he's brought in is a coach [Billy Barr]," added Ratcliffe.
"Sometimes you're judged as a manager on the players you bring in. The players were already here for Morrell and you could actually say they were on a winning run under Dean Saunders."