South Africa sports minister brands SAFA 'a disgrace'
Last updated on .From the section Football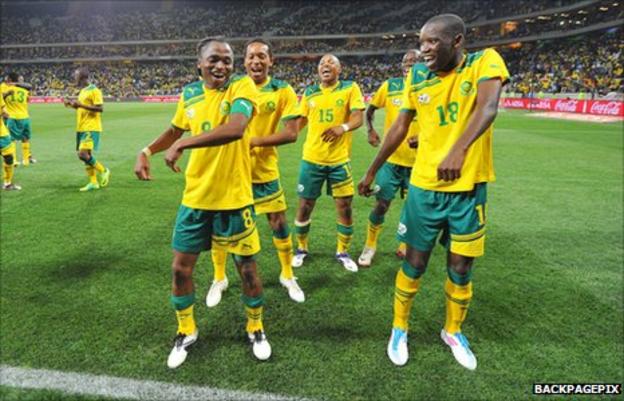 South Africa's FA (Safa) has been branded a 'disgrace' by sports minister Fikile Mbalula for its reaction to the failure to reach the Cup of Nations.
Niger emerged shock winners of a group having finished level on points with South Africa and Sierra Leone.
Safa officials, players and coaches thought goal difference decided who finished first in the group.
Bafana Bafana players even celebrated by dancing after a 0-0 home draw with Sierra Leone believing South Africa had qualified for next year's tournament.
Coach Pitso Mosimane admitted that he played for a draw as South Africa ground out a 0-0 result at home to Sierra Leone.
Mbalula slammed Safa's reaction to the failure saying the lack of knowledge of the rules is inexcusable.
"It is unfortunate we misread the rules of the tournament and played for a draw. There is no way a national team can play to get a draw," Mbalula said.
"National pride means the players must go out there and die for their country. This is a serious blunder. The rules are in black and white.
"I was surprised to hear one of the (Bafana) players arguing that Caf changes the rules after games.
"In other countries, people resign because of such failures. This is unacceptable.
"This is a national disgrace, we are not talking here about Kaizer Chiefs or Orlando Pirates but our national team. People came here wearing suits, saying 'we are appealing' (to Caf).
"You can't argue with Caf, they will put you in your right place."
Caf regulations elevate head-to-head records above goal difference and these were taken into account after three teams finished on top of Group G with nine points: Niger, South Africa and Sierra Leone.
Niger, who had never previously qualified for a Nations Cup, made history despite losing 3-0 in Egypt on Saturday thanks to Article 14.1 of Caf's 2012 Nations Cup ruling.
This states that 'in case of equality of points between two or more teams after all the group matches', the greater number of points obtained in matches between the concerned teams shall be the first deciding factor.
Niger top that three-team mini league, with their six points one superior to the tally mustered by both South Africa and Sierra Leone.