Off The Bawl - 16 October 2011
Last updated on .From the section Football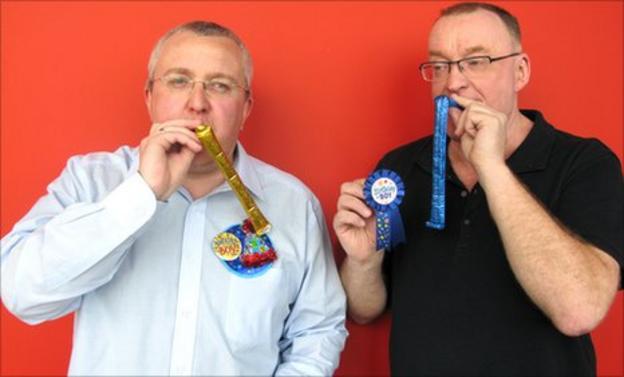 Greeeeeetings!!! Our studio guest on Saturday was the former Falkirk, Hibs, Dunfermline and Dundee striker Tam McManus. Why? Just so Stuart Cosgrove could rip the mince out of his co-host by saying: "For one day only, we're putting Cowan and McManus back on the airwaves!"
With friends like that...
So could any of our listeners beat Tam's record of getting jottered just four weeks into a new job?
We also discussed mobiles in a black week for a certain phone company, Craig Levein's future - or lack of it - as Scotland coach and gave the listeners a chance to respond to Celtic chief executive Peter Lawwell's prediction that the whole of Scottish football is doomed.
Oh, and keep reading for a terrific Team of the Week - The Police XI.
Here's a random selection of the most petty and ill-informed texts and emails on radio...
Kenny in Kirkcaldy said: "Tam, sorry to hear about the demise of The Hour. I was looking forward to next week's show as I believe you were going to have Graham Spiers on to play the piano..."
Sean in Cardenden said: "I was sacked after just one day. I was doing piece work peeling onions and I was told I didn't peel enough. I made £5.98 for the day and I still haven't been weighed in!"
Henry said: "Scotland? We are completely deluded, psychologically destined and programmed to endlessly repeat glorious failure. It starts with the national anthem - a song about glorious failure! And what about Craig Brown coming on your show last week and claiming we were going to beat Spain? Absolutely surreal!"
Cammy from Airdrie said: "Chuffed that The Hour has finished. It was very confusing to work out which one of the presenters was Tam and which one was Michelle."
Eddie said: "On the subject of mobiles, all we need now is for iPhones to start playing up and then we have the dream headline: Apple and Blackberry Crumble!"
Doug in Edinburgh said: "I went into a shop to buy a new mobile phone and the girl started talking about apps (whatever they are) and how many megapixels were in the camera. When I asked which phone had the clearest sound quality, she looked at me as if I had two heads! Apparently being able to hear what your caller is saying is no longer important. So I'm still on my six-year-old Nokia..."
John Patience said: "At the last Scotland game I attended, I was accused of not being a real Scotland supporter by one of the Tartan Army because I wasn't wearing a kilt, boots or Glengarry. I simply pointed out that me and my trusty tartan scarf had been at two World Cups - how many had his kilt been at? No uniform in my day!"
Davie Armour in Leven said: "Great show, lads. Is Celtic's masterplan to get out of the SPL by joining the First Division? It is the most competitive league in Britain after all..."
Anon said: "I was employed as a 16-year-old work experience kid at my local DIY shop when I was approached by a rather scruffy chap who asked for a bottle of white spirit. Two minutes later - after asking if he wanted a straw with that - I was promptly sacked."
Jimmy in Dundee said: "I've always had an old brick for a phone. Now I've got a Blackberry and I have absolutely no clue what to do with it - except text. And I could do that on the brick."
Tom More in Airdrie said: "When I went to buy my first mobile, the assistant asked: 'What do you want to do with it?' I thought that was pretty bleedin' obvious."
Allan said: "Why all the doom and gloom over Scotland? Listen, we were in the third pot when the draw was made and we finished third in the group. And I think we finished closer to second than fourth. So where's the failure? I reckon we punched above our weight!"
Sheena Noble in Greenock said: "I have a wee Nokia phone that's been in the washing machine and has also fallen down the loo (in that order), yet it's still going strong. PS. A tip to dry out your phone is to bury it in a bowl of dry rice and leave it overnight. Works every time."
Barney in Nielston said: "Allan Preston must replace Levein as he's the only guy who can make East Stirling v Albion Rovers sound exciting. And he can always spot at least two or three 'Peles' on the park. We don't have any skill, but his eternal optimism could surely lead us all the way to the World Cup final."
Scott The Singapore Saint said: "My daughter is looking forward to the new iPhone coming out as it has a voice recognition app that writes text messages for you. 'Brilliant,' I said, 'but if you're going to all the trouble of speaking, why not just call the other person?' She looked at me as if I was nuts. By the way, due to the Blackberry problems, I didn't get any calls, texts or emails for three days unless I was at my desk using the computer or the landline. They were the best three days of my life."
TEAM OF THE WEEK
The Police XI
(aka Borussia Truncheon Gladbach)
Stadium: Honest, Guv, He Fell Down The Stairs Park
1/ Any Hibs keeper (they get cuffed every week)
2/ Darren Behind Barrs
3/ Kojak Ross
4/ Tommy Ring 999
5/ Panda Diamond
6/ Nicked Dasovic
7/ Davie Not Proven
8/ Darren Bent
9/ Roberto Blow Into This Baggio
10/ Darren Huckledberry
11/ Davie Copper
AND FINALLY...
The song that played us out? Hearts boss Paulo Sergio asked if we could finish with a wee tune for referee Iain Brines - the old Fleetwood Mac classic, "Tell Me Lies"...
To join in the fun on this Saturday's show, call 0500 929500, text 80295 or email offtheball@bbc.co.uk
Listen to the most recent Off the Ball programmes.
Download the latest Off the Ball podcast.