Patrice Evra to pursue Luis Suarez allegations
Last updated on .From the section Football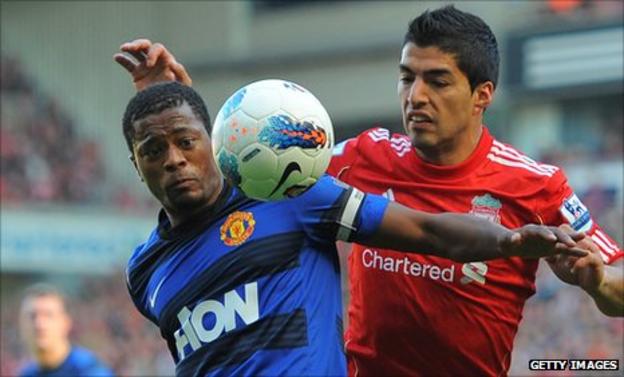 Manchester United defender Patrice Evra has told manager Sir Alex Ferguson he wants to pursue his allegations of racism against Liverpool's Luis Suarez.
Evra made the allegations after Manchester United's 1-1 draw at Anfield on Saturday.
Although the full-back feels television replays will prove his claims, Suarez has denied the allegations, saying he was "upset" by the accusation.
"I've spoken to Patrice. He is adamant he wants to follow it," said Ferguson.
The controversy came at the end of a game which otherwise passed off without incident.
Before Saturday's lunchtime clash, the United boss had urged his club's supporters not to stand during the game, and then pleaded with both sets of fans not to abuse their opponents with chants about the Munich and Hillsborough tragedies.
"It is not an easy one for us," said Ferguson. "Everyone knows Manchester United and Liverpool have great responsibilities in terms of things that happen on the field.
"Saturday was terrific. Both sets of fans were good. There was not any of that silly chanting we have had in previous years. Both sets of fans deserve praise for that.
"It is not something we would want to level against Liverpool and it is not against Liverpool.
"Obviously Patrice feels aggrieved at what was said to him. It rests in the hands of the FA now."