Everton's Jack Rodwell unfazed by red card against Liverpool
Last updated on .From the section Football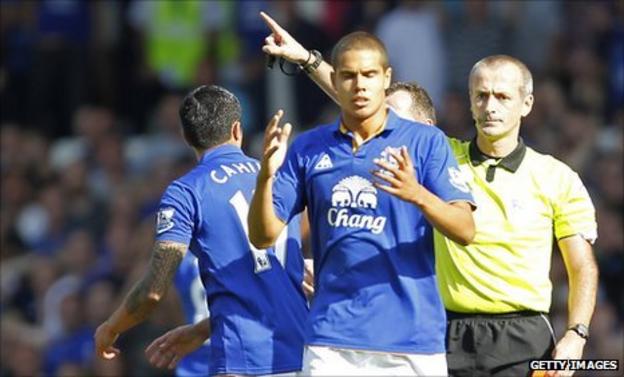 Everton midfielder Jack Rodwell insists he will not let his controversial red card in the Merseyside derby earlier this month change how he plays.
"The sending off was a hard pill to swallow," he told BBC Radio Merseyside. "But I've bounced back from that now it's been rescinded.
"Looking over the tackle again, I feel I've done nothing wrong," he added.
"It's a strong tackle at best. But that's what going to happens in a derby.
"If the tackle was to be made again I'm sure I would do exactly the same.
"You can look back at things like that and it can change your perspective but it was a mistake and I'm sure it won't change my perception of how to tackle."
The young Evertonian is also relieved that, having kept skipper Phil Neville out of the side to forge a midfield partnership with Marouane Fellaini, referee Martin Atkinson's match-turning decision in the 2-0 defeat by Liverpool did not cost Rodwell his place.
"It's good to be back in it and working on a partnership with Fellaini," he said.
"If it hadn't been rescinded, I would have been out for another two games which could have halted my progress.
"Long may it continue that we keep doing well together. But there's a lot of competition for every position, which is really healthy.
"Phil Neville's not in the side but he's an amazing captain and, when he plays, he's still an amazing player."
Everton visit Fulham on Sunday and Rodwell is confident Toffees striker Louis Saha can score his first Premier League goal of the season when he faces his former side.
"Louis Saha is a great player," he said. "In my opinion when he's fit, fresh and has a good run of games behind him, he's one of the best strikers in the Premier League.
"Hopefully he can start showing that again against his former club on Sunday.
"We will go into the game confident we can win."