Beram Kayal signs contract extension with Celtic until 2015
Last updated on .From the section Football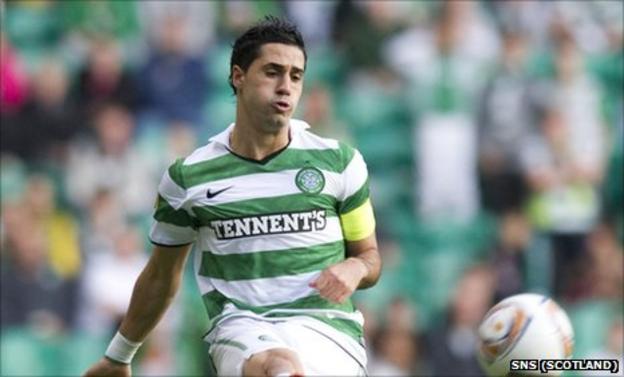 Beram Kayal insists he had no thoughts about leaving Celtic before agreeing a contract extension that ties him to the Glasgow club until summer 2015.
The Israel midfielder spent several weeks in negotiations and had been linked with other clubs after an impressive debut season at Celtic.
"There were a lot of rumours last summer, but I am here and I never said I wanted to leave Celtic," he said.
"I never thought for one moment to leave the club."
The 23-year-old, who had signed a four-year contract after leaving Maccabi Haifa in 2010, recognised that speculation had increased because of the length of time taken to finalise his new deal.
"I said before the season finished, I said I wanted to stay and sign a new contract," said Kayal.
"It has taken a long time because of breaks for international games - I broke my nose and twisted my ankle with the international team."
Kayal, who has made 40 appearances for Celtic, admitted that Neil Lennon's side had not had the best of starts to the season - they sit 10 points adrift of Scottish Premier League leaders Rangers.
However, he believes that Saturday's second-half three-goal fightback from 3-0 down to draw away to Kilmarnock on Saturday will kick-start their campaign.
"I think we just start the season now," said Kayal.
"It is important to think about the next game and winning. We must start to win every game."
Kayal was taken off at half-time at Rugby Park and therefore did not play a part in the comeback against Kilmarnock.
However, he understood Lennon's decision and hoped his own form would improve now that the contract issue had been settled.
"I had a yellow card and the manager changed me, but I am happy that we came back to draw the game," added the midfielder.
"I am happy to stay here and it is important for me to clear my mind and just focus on football.
"Because, when I am outside the club, people are asking me if I am leaving or not.
"I feel happy to stay here. I feel proud the manager wanted me here."