QC says Sion case against Uefa may revolutionise football
Last updated on .From the section Football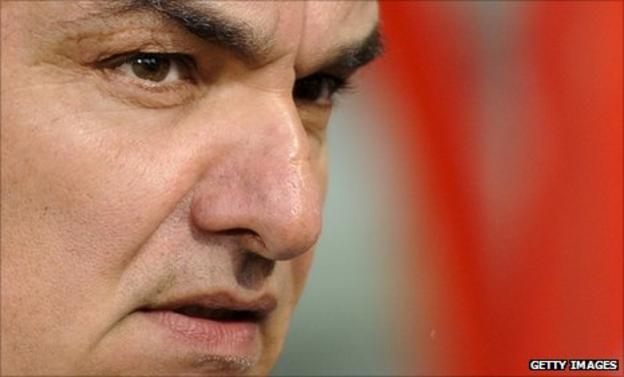 Sion's case against Uefa in the Swiss civil courts could revolutionise football, according to a prominent Scottish lawyer.
Paul McBride QC has compared the Swiss side's battle for Europa League reinstatement with the influential 'Bosman ruling'.
"I suspect, if this is successful, it is the Bosman ruling part two," he said.
"You get the impression this is the end game for a constitution that is immune to the civil courts."
In 1995, Jean-Marc Bosman's wish to move from Club de Liege to Dunkerque led the European Court of Justice to rule that out-of-contract players could move to another club without the permission of the ones to which they were previously signed.
That revolutionised the transfer market and McBride believes the Sion case could have an equal impact on the jurisdiction of football's two main governing bodies, Uefa and Fifa.
"These are very worrying times for Uefa. It means they no longer can do what they want," he explained to BBC Scotland.
Sion announced their intention to pursue Uefa through the Swiss civil courts on Tuesday, having refused to use the Court of Arbitration for Sport: the governing body's preferred course of action.
The Swiss club want to be reinstated to the Europa League after Celtic were given their place because Sion fielded ineligible players in their 3-1 aggregate win over the Scottish side in August.
And McBride says their threat of action is more potent than other legal challenges because of their geographical proximity to the headquarters of both bodies.
"It's different because Sion are based in Switzerland and so are the Uefa and Fifa headquarters, so the courts can compel them to enforce the decision that they make," McBride added.
"Whereas they could ignore a Scottish or English decision for a number of years, they can't ignore this decision if it goes against them.
"I suspect Uefa will make some allowance for that by bringing them into the competition without it going to a full court hearing.
"I'm not sure if the merits of this case are good. They did field six ineligibile players and people would find it hard to understand why, when two of them scored, they should be allowed to stay in the competition.
"But, in general terms, it means that, if Sion are successful, a body which hasn't been open to any challenge from anybody will now be able to be challenged in the future."
Celtic took Sion's place in Group I and have already played games against Atletico Madrid and Udinese.