Thomas Vermaelen signs long-term Arsenal deal
Last updated on .From the section Football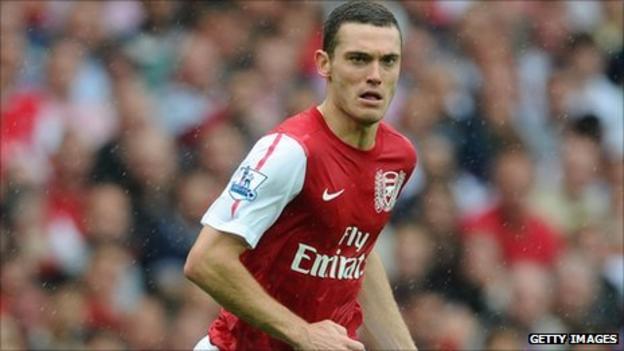 Arsenal defender Thomas Vermaelen has committed his future to the club by signing a new long-term contract.
The 25-year old centre-back has been out injured since picking up an ankle problem against Udinese in August but is closing in on full fitness.
The Belgium skipper signed for the Gunners from Ajax in June 2009 and was also sidelined for most of last season with an Achilles injury.
"I always had the intention to stay here," Vermaelen said.
"I feel there is a big belief in me from the club, from the boss and from the fans and that is one of the reasons why I stayed.
"Arsenal is a fantastic club. We have great supporters, we're doing well financially and we are playing with some quality young players now and they will develop, which is very good for the future."
Despite his injury problems, he is a regular when fit in a side that has recently lost Cesc Fabregas to Barcelona and Samir Nasri to Manchester City.
Captain Robin van Persie has also been linked with a move away from Emirates Stadium and has said he is in no rush to sign a new deal.
The Dutch forward's contract runs out in 2013 and Arsenal boss Arsene Wenger said Van Persie knows they are ready to begin talks.
Wenger said of Vermaelen's deal: "We are absolutely delighted. Our plan is always to sign top quality players and with Thomas extending his contract, we have done just that.
"Thomas is a special player, who has always made a huge contribution on the pitch and we are looking forward to him being a part of our future."