African Soccer Development pupils flourishing in Europe
Last updated on .From the section Football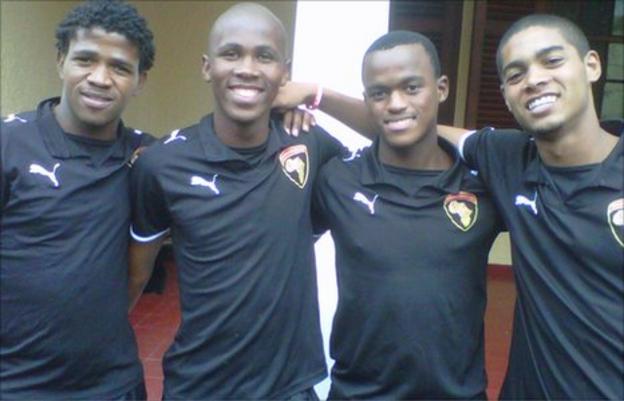 South African teenager Ayanda Patosi couldn't have picked a bigger match to score his first goal for Belgian side KSC Lokeren.
Brought on with 16 minutes left of the league clash against champions Racing Genk, the midfielder found the net from outside the box to seal a memorable 3-1 victory for his new club on Saturday.
"I was so excited - to score a goal against a team that are playing in the Champions League and won the title last season really motivates me," the 18-year-old told BBC Sport.
Patosi, who hails from Kayelitsha township near Cape Town, is one of the first four graduates from Cape Town's African Soccer Development (ASD) school.
The school has received backing from English Premier League stars including Stoke City's Danny Collins and Stephen Warnock of Aston Villa.
Along with Lokeren team-mate Ebrahim Seedat and Germinal Beerschot duo Lindani Ntomo and Sive Pekezela, the teenagers spent two years at ASD before impressing on a tour to Belgium in May.
"We beat KV Mechelen's Under-20s 4-0 and then won 4-1 against Anderlecht and I had the offers for those four boys based on those performances alone," explained Mike Steptoe, who established the academy in April 2009.
"Just about every Belgian club had scouts there to watch and they were astonished at the quality of our football," the Englishman added.
"I'm delighted it's going so well for Ayanda - Lokeren are often in touch and they are very pleased with the way he is developing.
"I'm sure the other three will start making an impact soon as well."
With scholars staying in residential accommodation at ASD's headquarters next to the University of Cape Town, they are taught to prepare for life as professional players while playing competitive matches at Under-17 and Under-19 level.
"They live their lives as if they are already in Europe," explained Steptoe, who is assisted by technical director Douglas Williams.
"We concentrate on high-level training, their education and diet to give them the best chance of making it at the top level.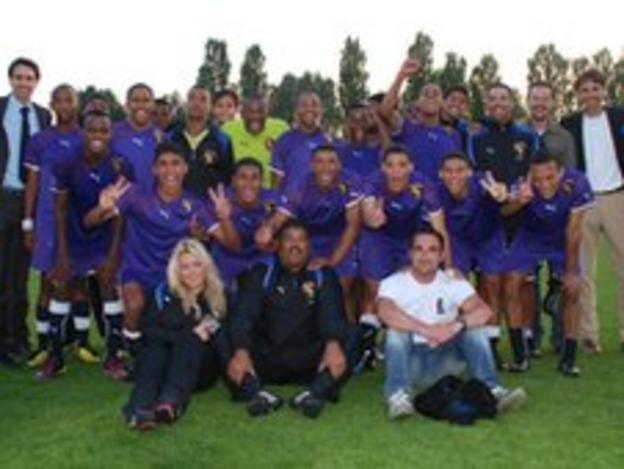 "The amount of investment in youth development is minimal in South Africa because they concentrate on the professional game.
"In the two years we've existed, we've beaten all the PSL sides that we have played."
The experience certainly seems to have benefitted Patosi. The attacking midfielder has yet to represent South Africa at any international level but has already made five appearances off the bench for Lokeren.
"I'm taking it slowly," he said. "The first time I played in a pre-season match I found it pretty easy but when we started playing league games I really noticed how fast it is - now I'm getting used to it."
"Before I joined ASD, I didn't realise that I had a chance of making it in Europe.
"I had dreamed of playing in the PSL or the Mvela (the second tier of South African football) before I saw the kind of football they were teaching here - and that gave me confidence to believe in myself.
"The coaches were always very encouraging and motivating to us and they taught us some important lessons."
Steptoe hopes there may be more who follow in his footsteps.
Midfielders Seedat and Ntomo and right-back Pekezela have also made good progress in their first few months in Belgium, while the next crop of graduates promises to be just as special.
David Gateri, 17, has won four senior caps for Kenya despite still being in his final year at ASD, while Brandon Fernandes - a 16-year-old from Goa in India - has already attracted interest from several European clubs.
"We have an extensive network of scouts and work on recommendations," he said. "We always go for boys who have got quick feet and show good vision but Ayanda could be the biggest thing ever to come out of South Africa.
"He is very technically gifted and can play anywhere in the middle or up front."