Hearts and council consider community stadium
Last updated on .From the section Football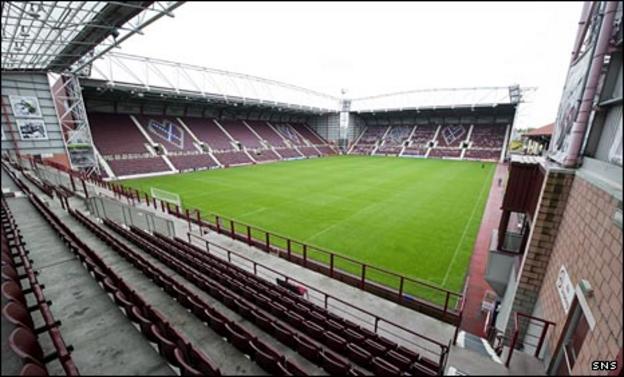 Hearts are to work with City of Edinburgh Council to look into the feasibility of a community stadium, the football club have revealed.
It follows a joint study into various options - whether to stay at Tynecastle Stadium or move to a new site.
Hearts director Vitalijus Vasiliauskas said: "The report highlights the severe restrictions the club is working under in relation to its current location.
"And it is very clear that 'doing nothing is not an option'."
Hearts say the report, which includes the results of the club's supporters' survey, highlights the difficulties faced by the Scottish Premier League club if it remains at Tynecastle.
"We are therefore keen to identify a sustainable and viable stadium solution for the club that will form the foundation for the club's long-term development," said Vasiliauskas.
"It is important at this stage to stress that no decision has been made regarding the future of Tynecastle."
Hearts say that the report provides "a number of significant recommendations relating to potential partnership models, one of which is a partnership with the council".
"At this stage, it is recommended that the council works jointly with Hearts to work up a business case which would identify whether a community stadium is sustainable and viable and, if so, how this could be delivered," said the club on its website.
"Hearts will now embark on further consultation with supporters and other key stakeholders once the full joint study is submitted to the council at the end of this month."
The study was announced in May, when it was stated that locations to the west side of Edinburgh would be considered.
Hearts stated it had become increasingly difficult to overcome "significant hurdles in relation to health and safety regulations and general restrictions on development potential" at their current home.