Liverpool's Steven Gerrard had doubts he would return from injury
Last updated on .From the section Football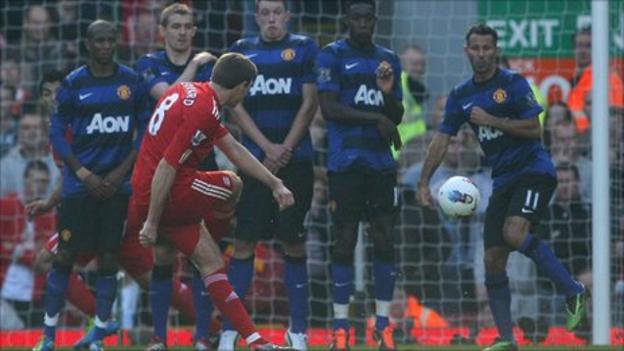 Liverpool captain Steven Gerrard has admitted to being concerned whether he would return from injury during the "hardest six months of my career".
Asked if he feared for his career, Gerrard said: "I think it's only natural you have doubts and different things do cross your mind.
"There were times when I was as low as I've ever been as a footballer."
Gerrard said that before the operation he needed injections to get through games.
"Basically, I knew that wasn't right," he added.
"I was missing training sessions and coming in the day before a game trying to get that last session in or having injections to play the next day.
"You can only do that for a certain amount of time before your body gives in - and mine gave in.
"My groin packed in on me and, when it happened, I was down and I was low.
"I knew it was going to be a serious one, something I wasn't used to. I had to try to be positive but I will admit that I was down."
Gerrard had expected to return for the start of the season but caught an infection related to the groin injury in July. He was admitted to hospital for further treatment.
"When it [the injury] happened, it took time before I got back into a positive frame of mind," Gerrard said. "Without doubt the last six months have been the hardest of my career."