Captain Phil Neville to keep battling for Everton start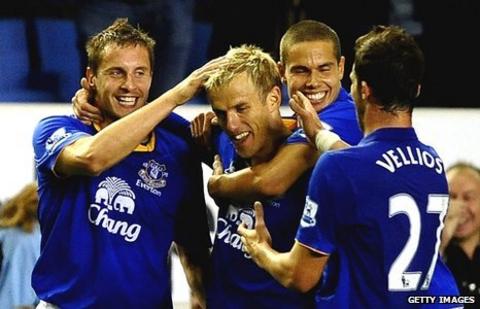 Everton captain Phil Neville says he is determined to work hard to win back a place in the Blues starting line-up.
Neville was on the bench for the recent defeats by Liverpool and Chelsea and wants to prove his worth to the club.
Neville told BBC Radio Merseyside: "At the moment I'm not in that starting 11 and I need to make sure I up my game.
"The manager is not leaving me out because it's personal, he's leaving me out because he wants to pick the best team play on a Saturday."
Neville continued: "I take great privilege in being captain and as captain I need to set the example. If I was sitting around sulking and moaning, what sort of example would be to the younger players in the squad?
"The bottom line is, when I get my chance again I need to produce and produce better than I did the last time I was selected, and that's my aim."
Everton have lost their last three Premier League games and are just two points above bottom-of-the-table Blackburn.
The Blues, who were the only club in the top flight not to spend any money on transfers in the summer, re-signed Scotland international James McFadden on a free transfer on Monday to bolster their squad.
Neville, 34, believes the players need to draw on their renowned spirit and continue to fight against the grain in future matches.
"99% of Premier League teams have spent more money than us," said the former England international. "We're not feeling sorry for ourselves and we've got to get out there and fight against the top teams.
"We've got a big game against Fulham and then we've two massive games after that against Chelsea and Manchester United. Regardless of what money they've spent, we believe and I believe that we can go out there and win all three games.
"Forget the money that's been spent [by others], it's about the quality that's on that field and we've still got enough quality in our squad to win these games."