Ivory Coast remain top in Africa's latest Fifa rankings
Last updated on .From the section Football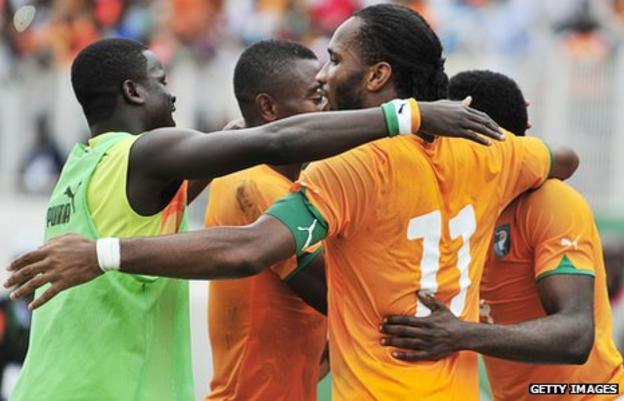 Ivory Coast maintained their place as Africa's highest-ranked side despite dropping three places in the latest Fifa rankings.
Rwanda were Africa's biggest movers for October's ranking released by the world governing body on Wednesday.
The Wasps moved up 31 places to occupy the 29th place in Africa and 112th globally.
The top three places in African remained unchanged with Egypt and Ghana second and third respectively.
The Pharaohs kept their second place by moving seven rungs up thanks to their 3-0 win over Niger in their Nations Cup qualifier earlier this month.
The Black Stars' 2-0 away win over Sudan helped them to move up four places up and to occupy 33rd position in the global ranking.
Benin were the biggest losers as they dropped 27 places in the overall list to occupy the 199th position after losing 1-0 at home to Rwanda in their final Africa Cup of Nations qualifier this month.
World Cup winners Spain retained the top spot on the global rankings.
Africa's Top Ten (global ranking in brackets):
1. Ivory Coast (19)
2. Egypt (29)
3. Ghana (33)
4. Algeria(35)
5. Senegal (42)
6. Nigeria (44)
7. Cameroon (47)
8. South Africa (49)
9. Burkina Faso (54)
10. Morocco (56)