Oliver Risser disappointed by captaincy drop at Swindon
Last updated on .From the section Football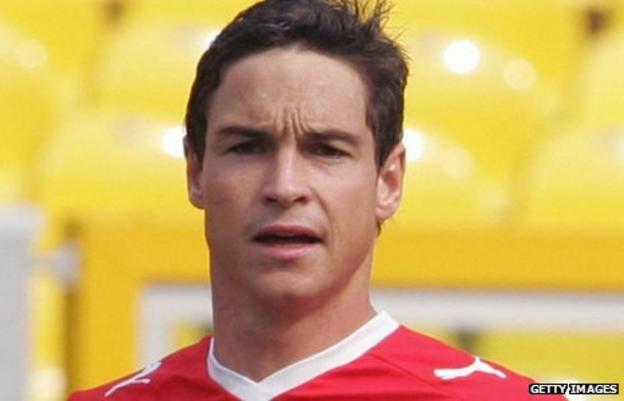 Midfielder Oliver Risser has revealed his disappointment about being stripped of the captaincy at Swindon.
But the Namibian lost his place in the side after suffering a groin injury and boss Paolo di Canio opted to hand the armband to defender Paul Caddis.
"It was a major disappointment - I feel a responsibility was taken away from me," he told BBC Wiltshire.
"It was not nice but it's a decision that's been made and I have to deal with it.
"I don't have to be a captain to be a leader and I have to put my values into the team and I'm more than happy to do that.
"Cads is the captain now and I have to accept that."
Risser, a Namibia international who had spent most of his career in Germany's lower leagues, got off to a flying start at Swindon, scoring on his debut in their 3-0 win over Crewe.
He started the following two games against Cheltenham and Dagenham but has been restricted to just three appearances since then.
But Risser insists he is ready to fight for a regular place in Di Canio's side.
"It's always difficult to come back into a team," he continued. "Of course you have to prove yourself again and again in every game, even if you are fit, but when you're coming back it's even more [important].
"I want to play, I want to work hard and if you don't play it's always unsatisfactory for a footballer. If you're happy not playing then something is wrong with you.
"I'm going to work hard and take every opportunity to play, even if it's 10 minutes. I'm going to show him [Di Canio] that it is wrong to not play me and that's the only way I can do it.
"I want to play, and although I'm not the captain it doesn't change anything for me. We've all got one cause - which is promotion."