Premier League owners want relegation, says Scudamore
Last updated on .From the section Football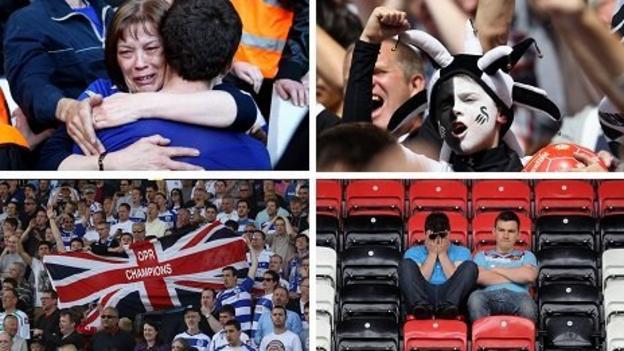 Premier League chief executive Richard Scudamore says there is not a single club that wants to scrap relegation.
Scudamore told BBC Sport it was "ridiculous" to suggest several foreign-owned clubs wanted the change.
"There is not a club that is interested in the notion of no relegation," Scudamore said. "The whole point is we are a sporting competition.
"Why are we so popular around the world? Why is the excitement as much as it is? It makes no sense at all."
The issue was raised by League Managers' Association chief Richard Bevan who earlier this week said several foreign-owned Premier League clubs wanted to scrap relegation.
He did not name any individuals, but claimed "American and Asian owners" were keen on the change.
However, Scudamore's comments are backed up by a survey of the Premier League's foreign-owned clubs.
Of those nine teams, Aston Villa, Blackburn, Chelsea, Liverpool, and Manchester United say they are happy with the current situation.
QPR owner Tony Fernandes could not be contacted, while Sunderland and Manchester City declined to comment. Fulham have not yet given a response.
Arsenal's major shareholder is American businessman Stan Kroenke. A spokesman for the club said they "did not have a stance" on the issue.
Any proposal would need the support of 14 clubs, and the Football Association also has the power of veto.
Scudamore said: "I have an open dialogue with all of [the owners] and I am probably in the best position of anybody to understand where the clubs are at and what the mood is and there is not one of them is contemplating that [proposal].
"A vague reference to American owners - I have spoken to them all and they are appalled at the idea they've been dragged into scaremongering around this idea of no relegation."
Scudamore also dismissed any prospect of clubs selling their own television rights.
Last week, Liverpool managing director Ian Ayre said such a move would give top sides greater finances to compete with major European teams.
Scudamore admitted it may have been talked about by some owners but said there was not a "consensus to change".