Safa withdraws appeal, apologises for Nations Cup crash
Last updated on .From the section Football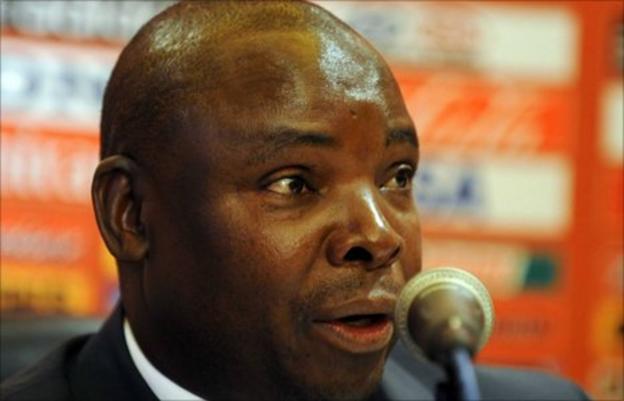 South Africa's FA (Safa) has withdrawn its controversial protest to Caf over the qualifying system for the Africa Cup of Nations.
Safa also apologised to the country for Bafana Bafana's failure to qualify for Africa's flagship tournament.
The under-fire federation congratulated lowly Niger for qualifying during a press conference on Wednesday.
Despite the failure, coach Pitso Mosimane will stay in his post.
His support staff will be investigated for misinforming the coach about the consequences of their goalless draw with Sierra Leone in their final Africa Cup of Nations decider.
Safa lodged a hasty formal appeal last week with Caf against the head-to-head system used to separate teams.
But after coming under severe criticism from sports minister Fikile Mbalula and the general public for the Caf protest, Safa has decided to drop its request.
"This is to apologise to the entire nation, our government and our supporters for the national team's failure to qualify for the Nations Cup in 2012. We are devastated and mourning the loss," Safa boss Kirsten Nematandani said.
"We own up to the mistake and we say we are sorry for letting the nation down.
"Right measures will be taken internally against the people who could not help to avoid this embarrassment. It is a sad time for all of us."
Niger emerged shock winners of the group having finished level on points with South Africa and Sierra Leone.
Safa officials, players and coaches thought goal difference decided who finished first in the group.
Bafana Bafana players even celebrated by dancing after a 0-0 home draw with Sierra Leone believing South Africa had qualified for next year's tournament.
Mosimane admitted that he played for a draw as South Africa ground out a 0-0 result at home to Sierra Leone.
Caf regulations elevate head-to-head records above goal difference and these were taken into account after three teams finished on top of Group G with nine points: Niger, South Africa and Sierra Leone.
Niger, who had never previously qualified for a Nations Cup, made history despite losing 3-0 in Egypt on Saturday thanks to Article 14.1 of Caf's 2012 Nations Cup ruling.
This states that 'in case of equality of points between two or more teams after all the group matches', the greater number of points obtained in matches between the concerned teams shall be the first deciding factor.
Niger top that three-team mini league, with their six points one superior to the tally mustered by both South Africa and Sierra Leone.