Manchester derby: City's De Jong confident of beating United
Last updated on .From the section Football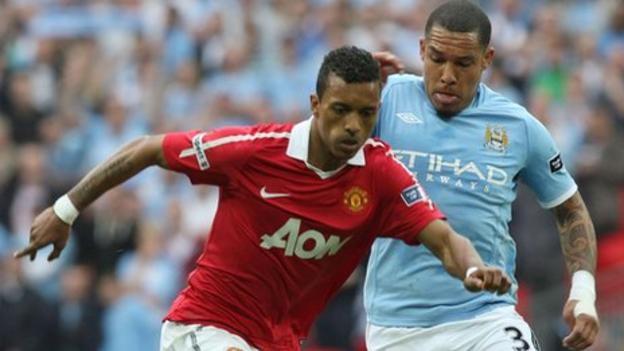 Nigel de Jong has said Manchester City are determined to prove they are the Premier League's best team when they face Manchester United on Sunday.
United have won 24 of their last 25 Premier League games at Old Trafford, but City go into the derby two points clear at the top of the table.
"We're going there as number one and aim to stay there," De Jong said.
But City face a Manchester United side who are also "confident" due to their home form, according to winger Nani.
Nani, who scored twice in United's 3-2 Community Shield win over City, praised his team's Manchester rivals but stressed his side's confidence.
He said: "City have a fantastic team at the moment with fantastic players. They are playing a lot of good stuff and it will be difficult to play against them.
"But we should not forget we are United. When we play at home it is very hard to beat us - that is why we are so confident.
"These are the games that always get the team motivated.
"When we play these games the team has a different attitude and a different hunger."
Adding that it was too early to tell if the title race would be dominated by the two Manchester clubs, Nani said: "City are one of the teams who have been doing fantastically well since the season started.
"But there are a lot of teams who are doing well and we need to be aware of them. Chelsea have been excellent for a start."
De Jong, while admitting that the game was "massive" for both sides, said City were confident they would emerge victorious.
"Of course everyone believes we can win," he said.
"The pressure is always there because of how this Manchester City team are growing.
"We have shown our quality throughout the season. We don't need a game against United to show how good we are.
"It is two of the best teams in England going up against each other and I expect it to be a great game."
And of City's future hopes, the 26-year-old added: "You can't build a history of winning trophies over 25 years like United have done in just one year.
"This side can be part of history because it has been so long [1968] since we won the title."