City could profit from derby day

By Alan Hansen
BBC Sport football expert
Last updated on .From the section Football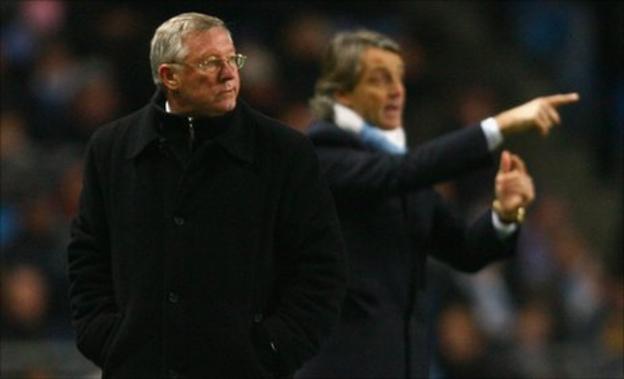 Manchester City have demonstrated to all their rivals in the last three years that they are not going away.
And if they continue to invest on the same vast scale then sooner or later they will be the dominant force in their own city.
Sir Alex Ferguson's job as manager of Manchester United is to ensure this happens later, so this only adds another level of intrigue as Roberto Mancini's side visit Old Trafford on Sunday as Premier League leaders.
Another sign of City's progress is that there is now a feeling among plenty of United fans that they would rather see Liverpool win the title than City.
That may not be 100% of fans, admittedly, but I am convinced it is a growing body of opinion - testimony to what is going at the Etihad Stadium.
City present a very serious challenge and history tells us it is one Ferguson and United will relish.
There is the chance that, if United keep winning and claim the major prizes at the expense of the Sky Blues, City's owners might take more of a back seat, reel in this incredible spending and come to the conclusion that they have not been able to crack the Old Trafford domination.
In reality, I wouldn't see that even becoming a possibility for 10 years. Ferguson's task is to keep them away from the door for as long as possible, he will hope to create pressure and bring another key element of winning titles into play.
I can talk about this until the cows come home because it remains a simple fact: You do not win the title when you are playing well; you win it when you are playing badly. You win it when you turn no points into one, one into three, and, on occasions, none into three.
United have perfected the art but can City? They have made great strides as the league table tells us but they did manage to turn three points into one at Fulham a month ago, blowing a 2-0 lead.
It is not just about scoring late goals, it is about playing as a team when you come under pressure. In recent seasons, when Manchester City have had a bad time, boy have they had a bad time.
City have looked more of a team this season; now they must take the next step and a Manchester derby against the champions is the perfect setting. They will have taken encouragement from the persistence they showed in getting the late win against Villarreal in the Champions League on Tuesday.
City buckled under the pressure United applied in the Community Shield, losing 3-2, but since then they have got themselves in a great position.
While Manchester United have the experience to know that titles are not won in October I actually think this is a bigger game for them. If City win and go five points clear, United might never see them again.
While Mancini's side will see Sunday as an opportunity to stamp their authority on the title race, Ferguson will see it as a chance to find out what City are made of. United's job is to apply pressure and see how City react.
United are likely to go into the game with their big guns selected and no repeat of the team selection Ferguson made for the 1-1 draw against Liverpool at Anfield.
He kept Wayne Rooney, Nani and Javier Hernandez back and I think that was with this game in mind. It was also a sign of United's strength that the six on the bench were better than six on the pitch and yet they still claimed a point.
If you look at the strength in the depth of the two squads you would say they are probably equal, but if you go from one to 11 then you could argue in City's favour. United's strength as a team, though, is so formidable and they have proved it time and again.
Whoever is picked, both managers will be looking for flaws in their opponents and obviously United's is that they are conceding too many chances this season. In Sergio Aguero and David Silva, City have players who can take advantage of any slips.
Where I think City have a weakness is on the left hand side of their defence. They are well catered for with goalkeeper Joe Hart and with Vincent Kompany and Micah Richards on the right, but with Joleon Lescott and either Gael Clichy or Aleksandar Kolarov on the left I feel they are vulnerable.
Mancini's approach will be an intriguing aspect of the game. I cannot see him telling his players to go out and play like they did at Tottenham where he had two holding midfield players and four others operating with flexibility and no out-and-out structure.
He has been playing Yaya Toure and Gareth Barry in the holding positions earlier this season, but I think if he chooses Nigel de Jong it is a sign that he is going for a more disciplined, approach.
I certainly do not think you will have two teams going for broke. It would be great if we saw another game like the 4-3 United win a couple of seasons ago but I will put money on Manchester City playing it tight.
I would love to see a real thriller, and perhaps we will, but reality dictates this is a game that has got draw written all over it.
Alan Hansen was talking to BBC Sport's Phil McNulty