AC Milan coach Allegri hails Taye Taiwo progress
Last updated on .From the section Football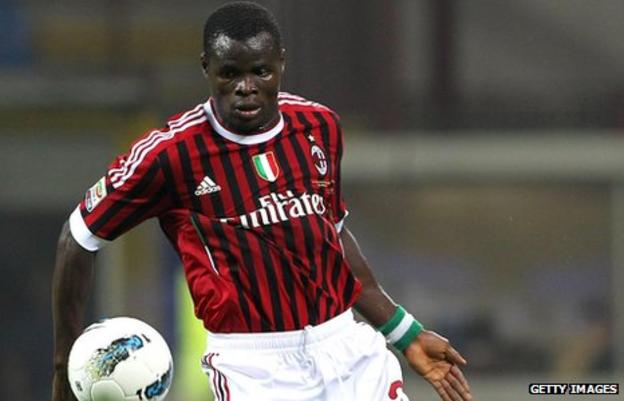 AC Milan coach Massimiliano Allegri has hailed Nigerian defender Taye Taiwo after making his first Champions League start for the Italian side.
He played his first official game against Cesena in a league clash last month.
His second official appearance came during Wednesday's 2-0 over Bate Borisov in a UEFA Champions League.
Taiwo, whose rocketing left-foot shot resembles that of former Brazil international Roberto Carlos, added a new dimension to Milan in Wednesday's game.
There was a sense of anticipation every time the ex-Marseille player joined the attack and he uncorked one pile-driver in the first half, a 30-metre volley which flew narrowly wide.
AC Milan coach Allegri is delighted that the Nigerian impressed when he was given the chance in the Champions League.
"It was good to give Taiwo a chance to show what a good player he is. He's getting a lot better in training," said coach Allegri.
Taye said he found the Champions League, where he has plenty of previous experience, a relief after Serie A.
"I'm getting more and more faith in my abilities in training and during the games and I think you can see that when I play," he said.
"The league is very difficult. I've been watching lots of DVD's to learn what I can. In the Champions League the play is different.
"I know it a bit better than I know Serie A because I have some experience in playing there."