German Charles Takyi gets clearance to play for Ghana

By Ibrahim Sannie
BBC Sport
Last updated on .From the section Football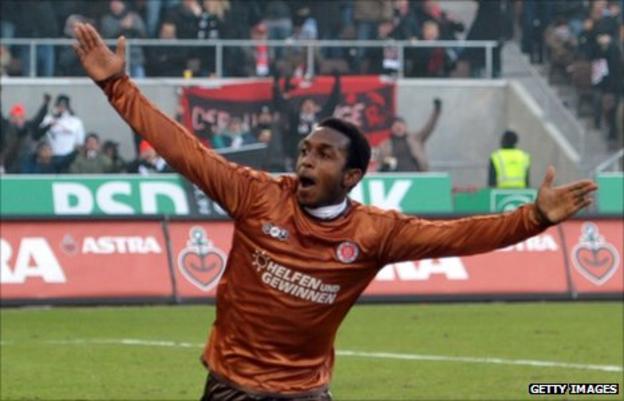 Ex-Germany youth midfielder Charles Kwame Takyi has been cleared by Fifa to play for Ghana, his country of birth.
The 26-year-old, who plays for St Pauli, applied to Fifa in July to enable him play for the West Africans.
As Takyi has dual nationality and has not played for Germany's senior side, he is eligible for Ghana.
Having satisfied all the requirements for a nationality switch, the midfielder has been cleared by the world governing body.
"The request made by the Ghana Football Association and the player Charles Kwame Takyi for change of Association team is accepted," Fifa said in a letter to the Ghana FA.
"The player Charles Kwame Takyi is allowed to represent the national team of the Ghana Football Association as from the notification of the present decision."
This means Takyi will be available to line up for the Black Stars at the 2012 Africa Cup of Nations.
The news comes as a massive boost for Ghana coach Goran Stevanovic who visited the player in Germany last month to monitor his performance.
The midfielder, who was born in Accra, could be handed a call-up as early as next month if the Black Stars manage to reach an agreement with Mexico for a friendly.
He joins a growing number of players who have switched nationality to play for Ghana.
Ex-Germany youth international Kevin Prince Boateng switched nationality to play for the Black Stars at the 2010 World Cup while England youth international Emmanuel Frimpong is pursuing Fifa to enable him play for the Black Stars.
Former Norway youth international goalkeeper Adam Kwarasey switched nationality to play for Ghana and excelled in their recent friendly against Brazil.
Takyi has lived in Germany since he was child, and has been capped by his adopted country at under-15, under-16 and under-17 levels.
Fifa has removed the age limit for players who want to switch national allegiance.
Previously players who had represented one country at youth level had to make the choice to change by the age of 21.