Juvenal outlines Michel issues with Equatorial Guinea
Last updated on .From the section Football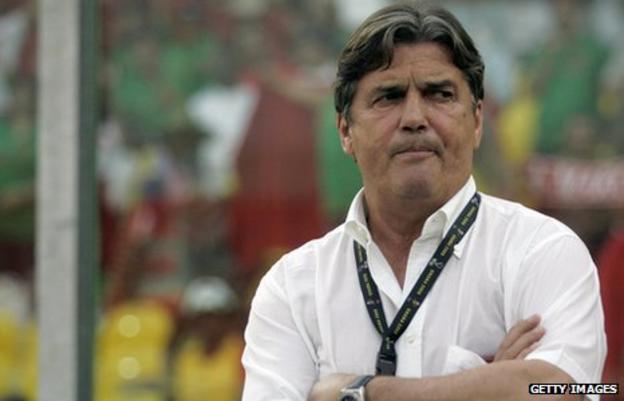 Equatorial Guinea midfielder Juvenal Edjogo-Owono says coach Henri Michel quit as the coach of the national team after a row with the federation over his choice of players.
But Edjogo-Owono says Michel's tendency to field local players above overseas-based ones created friction.
Michel's resignation leaves the country without a coach three months before they host the Africa Cup of Nations.
Michel's resignation comes just three weeks before they host Madagascar in a 2014 World Cup qualifier.
But the Spain-based midfielder says the Frenchman's preference for home-based players despite the poor results in friendlies caused his rift with the federation.
"There was a problem because Henri Michel called local players and they lost," said Edjogo-Owono.
"You can lose one or two matches no problem but when you lose a lot of matches and the best thing for the team is to call the Europe-based players and you don't think the same - then there is a problem.
"When I joined the national team and Henri Michel was saying to the local players 'You are the best players' and says to the players from Europe 'You can play better than this' that leads to a bad atmosphere and to divisions and that's a big problem for the team."
Edjogo-Owono, who plays for Sabadell in the Spanish second tier, is confident the country will excel in next year's Africa Cup of Nations if the country's best players are invited.
"If [Equatorial] Guinea use the best players they can do well - second round or third round I don't know - but [Equatorial] Guinea will fight all the matches at the Africa Cup," Edjogo-Owono said.
Michel took charge in January on a contact set to expire after the Nations Cup, which ends in February.
The Equatorial Guinea Football Federation (Feguifut) now has less than three months to find a coach before the country stages the opening game of the Nations Cup on 21 January in Bata.
The Nations Cup, which is being co-hosted by Gabon as well, will end with with the final in Libreville on 12 February.