Birmingham City's Pablo Ibanez suffers concussion
Last updated on .From the section Football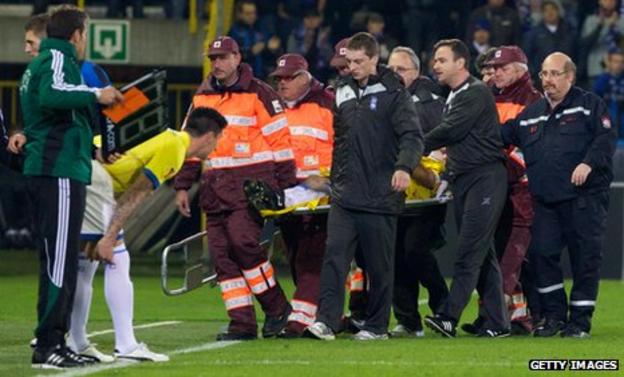 Birmingham defender Pablo Ibanez suffered concussion when he was knocked unconscious in the 2-1 Europa League victory over Club Brugge.
The 30-year-old Spaniard was treated for 10 minutes after a clash of heads with Joseph Akpala before being stretchered off.
Blues midfielder Guirane N'daw was in tears as his team-mate lay motionless.
Manager Chris Hughton said: "Pablo was a real concern for us so we're happy it was just concussion and he's OK."
The incident happened in the 83rd minute when the former West Brom defender headed away a Brugge free-kick and banged heads with Akpala.
The Club Brugge striker was able to continue after receiving treatment but Ibanez was carried away with his team-mates clearly shaken.
"We feared the worst, as you always do with incidents like that when it is always a real concern," added Hughton.
"But fortunately, it usually works out OK and thankfully it did today.
"We're very relieved he's OK and that comes before football. We've had two results today. One is the scoreline and the other is the fact he is OK."
Chris Wood's late winner gave Birmingham their second successive Europa League win after David Murphy cancelled out Akpala's opener.
"It showed great professionalism to do what we did after a stoppage of six minutes," said Hughton.
"It was a vulnerable time for us with the long stoppage and when you know there are 10 minutes of added time it's always a massive lift for the home team.
"At 1-1 I would have been quite happy but we've got a group of lads who felt they could get more and they drove through to the end to get the win."