Red cards ruined Stoke City win - Tony Pulis
Last updated on .From the section Football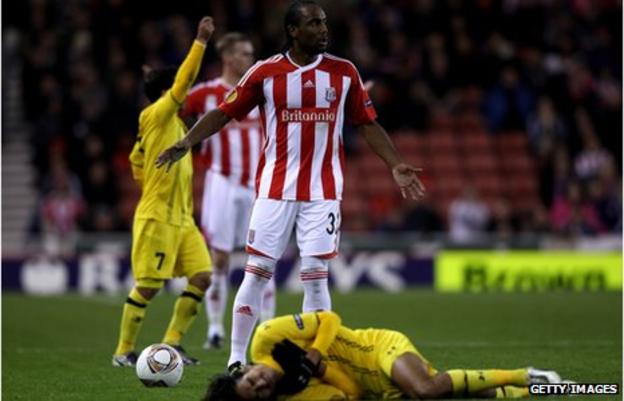 Stoke manager Tony Pulis said the red cards shown to Cameron Jerome and Yoan Ziv ruined the Potters' 3-0 win over Maccabi Tel-Aviv.
Stoke striker Jerome was sent off for two yellow cards before half-time.
Ziv was later dismissed himself after losing his boot and then kicking it at the assistant referee in anger.
Pulis said: "I watched the game in the rugby union World Cup semi-final being spoiled by a red card and we've seen two tonight here."
Jerome was booked for dissent and picked up a second yellow card in the 43rd minute when Greek referee Anastasios Kakos ruled that he had caught Ziv with his arm.
"I didn't see a bad challenge all night - 24,000 fans have come to watch tonight and you have to show some respect to them," added Pulis.
"I think we have to be very careful that we don't spoil what we have got in this country, which is honest competitive people, who want to make challenges.
"That is the big thing about professional football - it is a game of challenges.
"It is not netball, where you can stand off and try to stop them without touching them.
"If we take challenging out of the game, I don't think it will be anywhere near as good as it can be."