Dominic Matteo backs Leeds United to make play-offs
Last updated on .From the section Football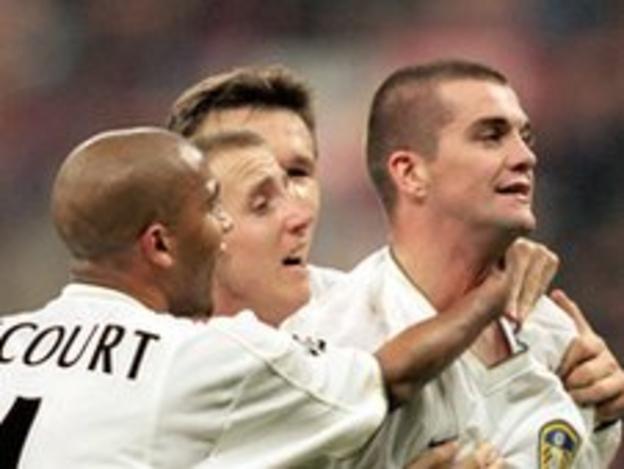 Dominic Matteo believes his former side Leeds United have what it takes to make the play-offs this season.
A poor run of results at the end of the last campaign saw Leeds just miss out on the top six.
The 37-year-old told BBC Radio Leeds: "Leeds have improved a lot and if they learn their lessons from last year, they'll have a chance.
"No-one thought they'd do that well, me included, but over the last three or four weeks we have seen improvement."
Matteo spent four years at Leeds and was an integral part of the side that reached the semi-finals of the Champions League in the 2000-01 season. He is still remembered in song by Leeds fans for his goal in their 1-1 draw against AC Milan in the San Siro in 2000.
Following United's relegation from the top flight he was sold to Blackburn, and now wants Leeds to replicate the sort of form they showed during his time there.
"Make Elland Road a fortress, pick up what you can on the road and you won't be far away.
"[He] Simon Grayson is a good young manager, he's done a fantastic job and I think he's trying to move the club in the right direction.
"They play some great football at times, I think he's trying to find that regular back-four and may have found it at the moment, and if he can get the lads playing week in, week out, you can get some consistency."
Matteo also backed chairman Ken Bates, who has come under criticism from some sections of the Leeds support for a perceived lack of investment in the playing squad.
"Obviously the fans got frustrated that he developed the stadium rather than the team, but he has to make that decision as a business.
"It was frustrating for the fans - we all wanted him to buy us a few players and get excited about the team - but he has turned the financial situation around."
Matteo hung up his boots in 2009 but still lives in Leeds, and remains hopeful that his adopted city can return to the Premier League after an eight-year absence.
"I said at the start of the season that I wasn't overly confident, but after seeing them over the last four of five weeks I have seen an improvement.
"I'm totally more optimistic about the team and I think there is a good chance they might make the play-offs.
"We just missed out last year, hopefully they can learn from that and maybe the gaffer can bring a couple of players in during the transfer window in certain areas to strengthen the squad up.
"The players are trying to get everyone buzzing about Leeds United again and I'd love to see them back in the Premier League, just because the fans deserve it, they've been so patient."
Dominic Matteo was the special guest on West Yorkshire Sport Daily on BBC Radio Leeds. You can listen again here. (Available until Wednesday, 26 October)