Report on Kenya stadium disaster set to be released
By Richard Connelly
BBC Sport, Nairobi
Last updated on .From the section Football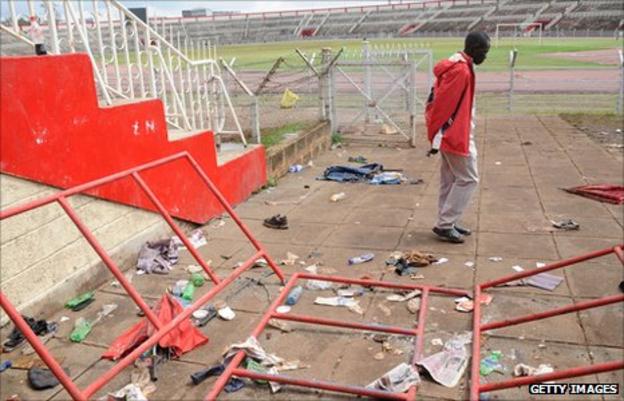 A report into the Kenya stadium disaster that killed five fans last year is due to be released soon.
The crush happened during a league match between the two biggest Nairobi rivals - Gor Mahia and AFC Leopards.
The Kenyan authorities originally announced eight people lost their lives, although the police later confirmed the death toll was five.
With bereaved families still searching for answers, Kenya sports commissioner Gordon Oluoch says the report is ready.
"I believe anytime from now you have the assurance of the Prime Minister that everything is on track and it is left with a little bit of polishing," Oluoch said.
"It could be days or weeks but I believe it is just around the corner. In my opinion it is just the formality of doing the presentation but the work has been done.
"The government will take the report very seriously because it was a committee which was constituted by the government."
Despite the claims by Mr Odinga and Oluoch that the report will be published in the coming days, Kenya Premier League chief executive officer, Jack Oguda, says no investigation has been carried out.
Oguda told BBC Sport: "We have been expecting an inquest to be done. The initial date was in August, but it never took off.
"This has been put into place by the government, so the next date for the hearing would be October 26th. It's taken a while and as a league we are really quite concerned."
The hold-up means compensation claims from at least one of the bereaved families cannot be resolved.
Oguda said: "We recently received a lawyer's note from one of the families. It's being handled by our legal advisers.
"We thought the inquest would be through (by now) but unfortunately it's not. We don't know whether they've sent a claim for compensation to other stakeholders (in Kenyan football).
"We don't accept responsibility until the report is concluded, and depending on the outcome in court."
Last year's disaster was the second fatal incident at the Nyayo Stadium in five years.
A 15-year-old supporter died during an international match between Kenya and Morocco in June 2005.
A promised investigation into that death never materialised.