I've had to adapt to Premier League - Per Mertesacker
Last updated on .From the section Football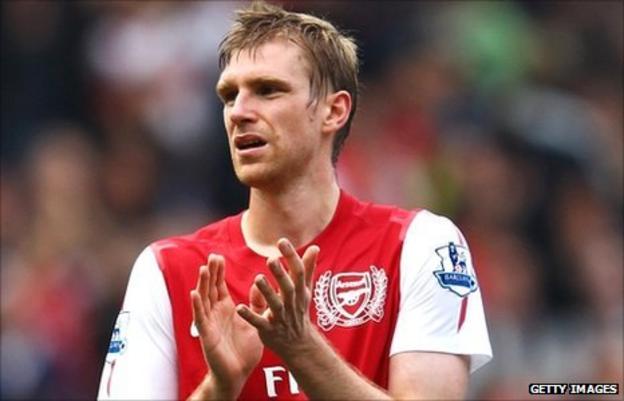 Arsenal defender Per Mertesacker says he has had to improve quickly to adapt to the demands of the Premier League.
The 26-year-old German international joined the Gunners on 31 August in an attempt to bolster their defence.
But the 6ft 6in centre-back has been criticised for lacking pace and admits the added physicality is new to him.
"I have to improve, it's hard work to do important games for the club every three or four days, that is very physical," he told BBC Sport.
"I have to take my time but I am improving very quickly."
Mertesacker moved to London from Werder Bremen, just days after Arsenal were beaten 8-2 by Manchester United.
But he said he was clear about his decision to join the Gunners for a reported £8m on transfer deadline day.
"The best players in the world play in the Premier League and therefore it is the best league," he added. "The English people in [Euro] 1996 said 'Football's Coming Home' and that's branded in my mind - that football comes from England.
"I thought the atmosphere was great but if you're standing on the pitch and you see all the supporters around you it is a great feeling to be a player here."
Arsenal were in something of a mini-crisis when Mertesacker arrived at the club, coming after the Manchester United thrashing and with captain Cesc Fabregas, midfielder Samir Nasri and defender Gael Clichy all having decided to leave in the summer.
This was compounded by some far-from-encouraging results, with a 4-3 defeat at Blackburn coming in the German's third game for his new team.
"It was a critical moment for the club but I didn't feel that because if everything is new and you are a new player, everything is exciting," Mertesacker said.
"But if you are new you want to help the team, settle in quick, adapt quick."
Mertesacker added: "Every player had a big responsibility here. The club has great past and hopefully a very good future and therefore everyone takes the responsibility to be a good quality player."