Terry Butcher seeks Inverness response
Last updated on .From the section Football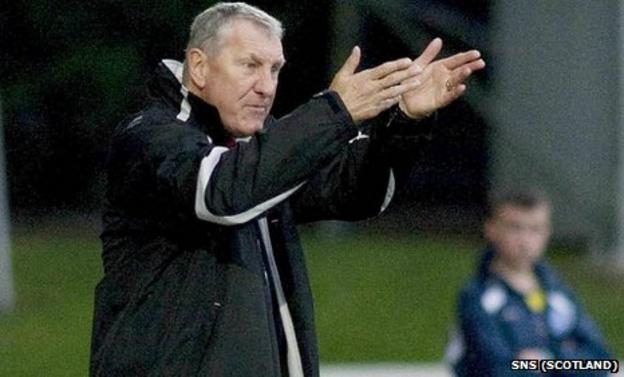 Manager Terry Butcher has challenged Inverness to atone for a below-par loss to St Johnstone with two home wins.
The Highlanders host Dunfermline and Motherwell after a 2-0 defeat in Perth last weekend that Butcher felt was their worst league showing of the term.
But Inverness are unbeaten in three games at home and Butcher has demanded a positive response.
"When you get a massive slap in the face, you have to regroup and make sure it doesn't happen again," he said.
"The mood in the camp has been very remorseful and very sheepish among the players.
"But there is no point going over old ground, we have worked on a lot of things this week.
"The attitude for me was nowhere where it has been before.
"I'm not saying they weren't playing for the jersey, they worked very hard and had a lot of energy.
"But the attitude to do the things that have got us results and goals wasn't there. We didn't stick together.
"It was difficult because I never saw it coming. But the players have rolled their sleeves up and got going."
Inverness will move off the bottom of the Scottish Premier League if they beat the Pars, who sit one point above them.
"No matter what situation Dunfermline are in or who we are playing, it's a great game for us because the players know they let themselves down and let everyone down," Butcher added.
"We didn't make any chances, whereas all season we have made loads of chances.
"We need that attitude and application and to stick together."
Despite his anger over their McDiarmid Park performance, Butcher has been generally satisfied with his side this season despite their lowly position.
And the former England captain feels there is ample room for improvement in the coming weeks.
"We have only played each other once and we are only one point behind," he explained.
"We haven't played anywhere near what we can do.
"We are still a long way away. We have to increase the work rate and attitude and application and belief in each other and just keep what we had been doing.
"We lost ground last week but our home form has been good and we have two homes games now.
"We'll deal with the away game performance and tactics in due course.
"We have two cracking home games and we're looking for six points."